Richard G. Burke (Imperial Chief Rabban)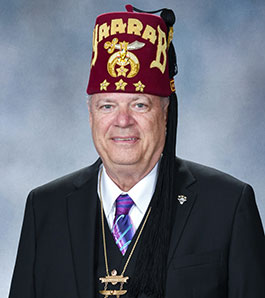 Richard G. Burke of Buford, Georgia, is completing his ninth year as a member of the Boards of Directors for Shriners International and Shriners Children's™. He was elected Imperial Chief Rabban, head of the 12-member body that helps govern the Shriners fraternity, during the Shriners 2023 Imperial Session held July 2-6 in Charlotte, North Carolina.
Fraternities and Philanthropy
Master Mason, Buford Lodge #292, March, 2003
Yaarab Shriners, Atlanta, Georgia, 2003
President, Gwinnett Shrine Club, 2006
Potentate, Yaarab Shriners, 2014
Divan Member, Yaarab Shriners, 2008–2014, honored many times for fundraising efforts
Regional Imperial Public Relations Director, Southeast, 2009–2013
Member, Ancient & Accepted Scottish Rite, Valley of Atlanta
Chairman, Salaries, Personnel and Retirement, Shriners Children's, 2019–2022
Chairman, Shriners Children's College Classic, 2018–2021
Chairman, Membership Committee, 2019–2020
Chairman, Shriners Children's Sports Committee, 2021-2022
Executive Committee Member, Donor Development, 2021-2022
Executive Committee Member, Marketing & Communication, 2021-2022
Education
Bachelor's degree, Business, minors in Accounting, Computer Science, State University of New York at Geneseo, 1979
Professional and Personal
Burke was born in Endicott, New York, and moved to Atlanta after graduating from college. From 1979 to 1988, he worked as a systems consultant for NCR and Texas Instruments, where he specialized in accounting systems, voice recognition and artificial intelligence systems. After that, he worked as an IT consultant.
In 1992, he joined Payment Technologies Inc. as a partner and vice president of information technology. After selling their initial business in 2002, Burke and his business partners formed a successful Internet venture called Financial Operations Networks LLC. As chief information officer, Burke is responsible for online marketing, online development, search engine optimization and part of overall business strategy decisions. The remaining business channel processes millions of accounting transactions for major companies around the world.
Burke and his wife, Judy, have been married for 30 years. They enjoy spending time with their three married children and eight grandchildren, ages 16 to 23. Burke and his wife have dedicated their lives to raising awareness of Shriners International and Shriners Children's since their granddaughter, Leah, received care for burn injuries at the Shriners Children's location in Cincinnati in 2002.
Contact Us
Questions, comments or concerns? Please submit a form with your questions and we'll get back to you as soon as possible.