Brad T. Koehn (Imperial Treasurer)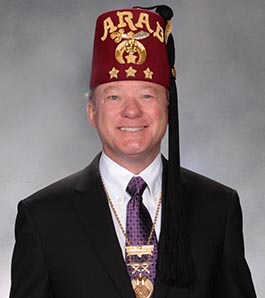 Brad T. Koehn of Topeka, Kansas, is serving his sixth year as a member of the Boards of Directors for for Shriners International and Shriners Children's™. Koehn was re-elected Imperial Treasurer, part of the 12-member body that helps govern the Shriners fraternity, during the Shriners 2022 Imperial Session held July 2–7 in Minneapolis, Minnesota..
Fraternities and Philanthropy
Master Mason, Topeka Lodge #17, Topeka, 1981
Member, Orient Lodge #51, Topeka
Arab Shriners, Topeka, 1981
Potentate, Arab Shriners, 2015
Member, Membership and Finance Committees, Arab Shriners
Imperial Auditor and Chairman, Finance and Audit Committee, Shriners International and Shriners Children's, 2012–2013, 2015–2017
Emeritus member, Finance and Audit Committee, Shriners International and Shriners Children's
Member, Budget, Capital Evaluation, Investment, Oversight and Golf committees
Lifetime member, Cabiri International
Education
Bachelor's degrees, Accounting and Business Administration, University of Kansas
Professional and Personal
Koehn is retired from the accounting firm of Berberich Trahan & Co., P.A., where he was employed for more than 37 years, the last 22 serving as a director/owner. He is a member of the American Institute of Certified Public Accountants and the Kansas Society of CPAs. Koehn's work experience includes providing audit, tax and accounting assistance for many Shriners International temples.
Over the past years, he has worked with many temples and their leadership, providing guidance and advice in the areas of accounting policies and procedures, internal controls, cash flow, income taxes and other business-related topics.
Koehn and his wife, Cheryl, have two sons, Tyler and Brett, who are also Shriners, and a daughter, Courtney. Koehn is a third-generation Shrine-Mason and followed in his father's footsteps as Potentate of Arab Shriners.
Contact Us
Questions, comments or concerns? Please submit a form with your questions and we'll get back to you as soon as possible.