Mark Hartz (Imperial Oriental Guide)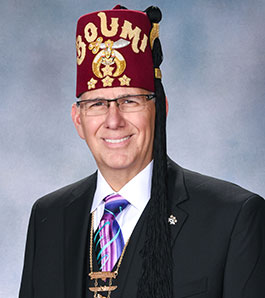 Mark Hartz of Severn, Maryland, is completing his seventh year as a member of the Boards of Directors for Shriners International and Shriners Children's™. He was elected Imperial Oriental Guide, part of the 12-member body that helps govern the Shriners fraternity, during the Shriners 2023 Imperial Session held July 2-6 in Charlotte, North Carolina.
Fraternities and Philanthropy
Master, Solomon's Lodge #121, Maryland, 2010, 2011, 2013, 2018
Boumi Shriners, 2006
Potentate, Boumi Shriners, 2017
Member, Boumi Ambassadors, Cig-Car club, Brew Club, Financial Advisors Committee, Amateur Radio Club, Gun Club, Rifle and Pistol Club, Mounted Patrol and Motor Corps.
Honorary Legion of Honor, DeMolay International
Former Chair and Current Advisory Board member, Glen G. Owns Chapter, DeMolay International, Maryland
Numerous leadership positions and committee memberships, Grand Lodge of Maryland, including chairman of the leadership program and member of the Committee on Youth
Past member, Board of Directors, Stephen J. Ponzillo Jr. Memorial Library and Museum at the Grand Lodge
Past Associate Bethel Guardian, Bethel #16, numerous committee memberships and service as committee chairs of the Grand Guardian Council of the DelMar, Job's Daughters International
Member, Ancient & Accepted Scottish Rite, Southern Jurisdiction
Member, Freestate Shield and Square Club Degree Team
Member, Concordia Chapter #1 RAM, Concordia Chapter #1 R&SM, Maryland Commandery #1 Knights Templar
Past Sovereign Master, Freestate Council Allied Masonic Degrees, 2016
Professional and Personal
Born and raised in upstate New York, Hartz moved to Maryland in 2003, where he began his Masonic and Shriners journey. His affinity for Shriners International developed as a boy, when two family members received care from Shriners Children's.
Hartz has served the people his entire professional life, including positions with local, state and federal service. He currently serves as the chief of physical security for the U.S. Courts. Hartz has served for more than 30 years as a volunteer firefighter and EMT and is the past president of the Jessup Volunteer Fire Department Board of Directors. He has served as the Chapter Chairman of the Board of the Mohawk Valley Chapter of the American Red Cross. He is an active member of the Associated Italian American Charities of Baltimore.
Contact Us
Questions, comments or concerns? Please submit a form with your questions and we'll get back to you as soon as possible.