Marty Bartlett (Imperial Captain of the Guard)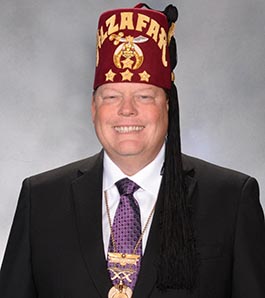 Marty Bartlett, of San Antonio, Texas, is serving his second year as a member of the Boards of Directors for Shriners International and Shriners Hospitals for Children®.
Fraternities and Philanthropy
Member, Cibolo Lodge #151, San Antonio, 2006
Past Master, Cibolo Lodge, 2014
Member, Ancient & Accepted Scottish Rite, Valley of San Antonio, 2007
Member, Alzafar Shriners, San Antonio, 2007
Potentate, Alzafar Shriners, San Antonio, 2020
Iowa Representative, Alzafar Shriners, 2019–2020
Chief of Staff, Alzafar Shriners, 2012
Member, Directors Staff unit, 2007–2020
Member and current officer, Rod & Gun Club
Member and Past Rabban, Hillbillies Clan
Member, Order of Quetzalcoatl, 2016–present
Member, Royal Order of Jesters, 2018–present
Board of Directors and Past Treasurer, Camp Alzafar
Education
Bachelor's degree, Astrophysics and Mechanical Engineering, Vanderbilt University
Master's degree, Materials and Mechanical Engineering, Georgia Institute of Technology
Professional and Personal
For the past 25 years, Bartlett has worked for military defense contractors including Lockheed Martin, Northrup Grumman and General Electric, and he continues to provide classified business development, program and proposal support. Bartlett owns a factoring and finance company that offers funding to small businesses.
Bartlett is active in his community. He has been an elected trustee of the Comal Independent School District for the past five years. Other leadership positions he's held include Business Chairman of the San Antonio Army Recruiting Battalion, Chair of the San Antonio Transportation Board and State Alliance, VIA Transit Board Member and Finance Chairman. He's been president of his neighborhood association and chairman of his church council. In addition, Bartlett is an Eagle Scout and an assistant scoutmaster.
A legacy Shriner, Bartlett has been married to his wife, Martha, for 26 years. The couple have two children, Mariah Bartlett, 23, and Matthew Bartlett, 22.
Contact Us
Questions, comments or concerns? Please submit a form with your questions and we'll get back to you as soon as possible.