Tim Forbis (Imperial Outer Guard)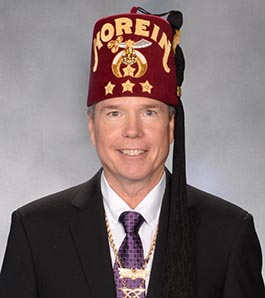 Tim Forbis of Cheyenne, Wyoming, is serving his first year as a member of the Boards of Directors for Shriners International and Shriners Hospitals for Children®.
Fraternities and Philanthropy
Past Master, Cheyenne Lodge #1, Ancient Free and Accepted Masons (AF&AM)
District Education and Counselor, Grand Lodge of Wyoming AF&AM
Wyoming Grand Lodge Endowment Fund
Potentate, Korein Shriners, 2020
Imperial Captain of the Guard Aide Grand Commandery of Knights Templar of Wyoming, Grand Senior Warden
Most Eminent Grand High Priest Grand Chapter, York Right, Wyoming
Finance Committee, General Grand Chapter Royal Arch Masons International
General Grand Chapter International Ambassador to Wyoming
General Grand Council Royal and Select Masters of Wyoming,Grand Conductor of the Council
Venerable Master Frontier Allied Masonic Degrees
Red Cross Constantine, Eusebius Conclave – Viceroy
Associate Guardian, Bethel 33, Jobs Daughters
Past Executive Officer, Wyoming DeMolay
Senior DeMolay Order of Eastern Star, Burns, Wyoming, Chapter 47
KCCH Wyoming Scottish Rite Past Venerable Master KSA, Charter Member
Wyoming Scottish Rite Foundation Board
Wyoming Masonic Membership Committee
Education
Natrona County High School, 1979
National Association of Realtors
National Association of Residential Property Managers
Institute for Real Estate Management
Graduate of several trade schools for management, business, and broadcasting
Professional and Personal
Forbis worked in the hospitality and entertainment industry until 1997, when he went into real estate. He is CEO and president of two real estate corporations that operate in Colorado, Wyoming and Nebraska. He has taught property management and investment real estate. He has been the guest speaker for property management associations nationally and internationally.
Forbis has three daughters, a stepson and five grandchildren. He loves to spend time in the wide-open spaces of Wyoming with his Lady, Peggy, to whom he proposed during his installation as Potentate of Korein Shriners in 2020.
Contact Us
Questions, comments or concerns? Please submit a form with your questions and we'll get back to you as soon as possible.