Jim Cain (Imperial Recorder)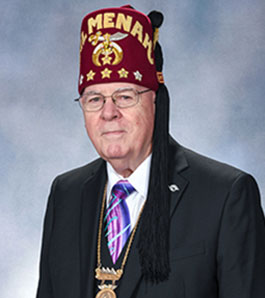 Jim Cain of Nashville, Tennessee, is serving his 16th year as a member of the Boards of Directors for Shriners International and Shriners Children's™. Cain was re-elected Imperial Recorder during the Shriners 2023 Imperial Session held July 2-6 in Charlotte, North Carolina. Cain served as Imperial Potentate for Shriners International during the 2018–2019 Imperial year.
Fraternities and Philanthropy
Master Mason, John B. Garrett Lodge #711, Nashville, 1995
Member, Ancient & Accepted Scottish Rite, Orient of Nashville, KCCH 2005
Member, Edward G. Corbitt-Doric Chapter #147 RAM, Nashville Council #1 R&SM and Nashvile Commandery #1 of Knights Templar (York Rite), 1995
Member, Royal Order of Scotland
Potentate, Al Menah Shriners, Nashville, 2006
Member, Al Menah Shriners Leadership Team, 2002–2006, where he assisted in raising more than $5 million for Shriners Children's
Captain of the Motor Corps, Membership Committee Divan Liaison, Chairman of Ringmasters Club and Business Owner's Group, and other positions, Al Menah Shriners
Past Rabban, Hillbilly Clan #151, Nashville
Life member, Cabiri Association
Charter member, Tennessee East-West Football Classic Committee
President, Tennessee Shrine Association, 2006
Associate member, Rizpah Shriners, Madisonville, Kentucky; El Hasa Shriners, Ashland, Kentucky; Jericho Shriners, Kingsport, Tennessee; Kerbela Shriners, Knoxville, Tennessee
Honorary member, DeMolay International Supreme Council
Honorary Legion of Honor, DeMolay International
Past Chairman, Salary, Personnel and Retirement; Planning; Clinical and Basic Research; Medical Affairs; Information Services; Revenue Cycle; Fraternal Strategic Planning; Insurance; Oversight; Special Purpose Funds/Fundraising Evaluation; Time and Place; and Emblems, Regalia and Jewels committees
Past member, Public Relations; Corporate Compliance; Budget; Investments; Masonic Relations; DeMolay; Mileage and Per Diem; and Protocol and Resolutions committees
Past Liaison Officer, Boston, Cincinnati, Shreveport, Springfield and Tampa Boards of Governors for Shriners Hospitals for Children
Professional and Personal
A former locomotive engineer, Cain worked for CSX Transportation for more than 42 years. He was a Community Affairs and Safety Officer and a board member of the Tennessee Railroad Association. Cain spent three years as state coordinator of Tennessee Operation Lifesaver Inc., a nationally recognized program that educates the public about dangers at railroad grade crossings and around railroad properties. He also served as chairman of the board for Alabama Operation Lifesaver Inc. and Tennessee Operation Lifesaver Inc.
Cain and his wife, Patsy, have been married for 56 years. They have two children, Janice and Jim Jr., two grandchildren, Oakley and Paxton, and two great-grandsons, Dasher James and Arden Patrick.
Contact Us
Questions, comments or concerns? Please submit a form with your questions and we'll get back to you as soon as possible.