Ron DeVoll (Imperial Outer Guard)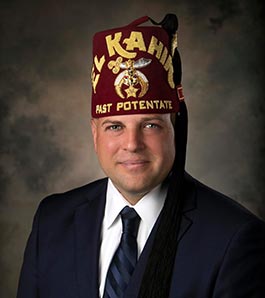 Ron DeVoll, of Minnesota, is serving his first year as a member of the Boards of Directors for Shriners International and Shriners Children's™. He was elected Imperial Outer Guard, part of the 12-member body that helps govern the Shriners fraternity, during the Shriners 2022 Imperial Session held July 2–7 in Minneapolis, Minnesota.
Fraternity and Philanthropy
Master Mason, Black Hawk Lodge #65, Cedar Falls, Iowa
Member, Minneapolis Lodge #19, Minneapolis, Minnesota
Member, Scottish Rite, Valley of Minneapolis
Member, St. John's Chapter 9
Member, Minneapolis Council 2
Potentate, El Kahir Shriners, Hiawatha, Iowa, 2016
Member, Zuhrah Shriners, Minnetonka, Minnesota
Member, Zuhrah Legion of Honor, Zuhrah Horseman
Member, Cabiri International
Education
Bachelor's degree, University of Northern Iowa
Master's degree, University of Northern Iowa
Professional Membersnhips
American College of Healthcare Executives (ACHE)
Association for Health Care Volunteer Resource Professionals (AHVRP)
Society for Healthcare Volunteer Leaders
Professional and Personal
DeVoll is a Unites States Army veteran with a clinical and administrative background in health care. He also has experience in organizational and corporate engagement through building strategic partnerships. Further, he has experience in donor relationships. His hobbies include drag racing, riding horses and traveling. Personally, he and his family are active members of the community. He and his lady, Jill, have one teenage daughter, Natalie.
Contact Us
Questions, comments or concerns? Please submit a form with your questions and we'll get back to you as soon as possible.