David C. Hamm (Imperial Outer Guard)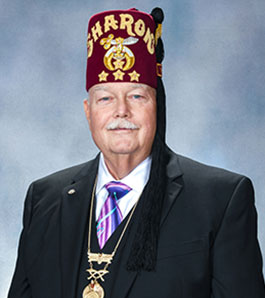 David C. Hamm, of Tyler, Texas, is serving his first year as a member of the Boards of Directors for Shriners International and Shriners Children's™. He was elected Imperial Outer Guard, part of the 12-member body that helps govern the Shriners fraternity, during the Shriners 2023 Imperial Session held July 2-6 in Charlotte, North Carolina.
Fraternities and Philanthropy
Master Mason, Montgomery Lodge #94, Cincinnati, Ohio, 1981
Member, Ancient & Accepted Scottish Rite, Valley of Gulfport, Mississippi, 1981
Member, Starr Lodge #118, Winona, Texas, 2004
Worshipful Master, Starr Lodge #118, 2007-2008
Treasurer, Starr Lodge #118, 2014–2022
District Deputy Grand Master, 16th Masonic District of the Most Worshipful Grand Lodge of Texas, 2013
Member, Bahia Shriners, Orlando, Florida, 1981
Member, Sharon Shriners, Tyler, Texas, 2004
Colonel, Jeep Patrol, Sharon Shriners, 2007
Ceremonial Cast Director, 2009-2019
Drill Captain, Sharon Shriners, 2013–2014 and 2016–2017
Ritualistic Potentate, Ceremonial cast, 2011–2019
Potentate, Sharon Shriners, 2012
Treasurer, Sharon Shriners, 2014–2021
President, Texas Shrine Association, 2011-2012
Secretary/Treasurer, Texas Shrine Directors Association, 2013
Secretary/Treasurer, Texas Shrine Shotgun Sports Association, 2019–2020
Chairman, Sharon Shriners Hospital Benefit (Paper Day), 2008–2011
Deputy Director General of the 2021 Imperial Session
Imperial Chaplain, 2020-2021
Education
Scarlet Oaks Joint Vocational School, Cincinnati, Ohio, 1976
Madeira High School, Madeira, Ohio, 1976
Professional and Personal
Hamm enlisted in the U.S. Navy after graduating from high school. He served for 20 years and is a qualified Submariner. The highlight of his career was serving as the Chief of the Boat or "COB" onboard the USS Hyman G. Rickover (SSN 709). He retired in 1997 as a Senior Chief Machinist Mate (SS) while serving as the Production Supervisor of the Outside Machine Shop. Hamm was awarded three Navy Commendation Medals, two Navy Achievement Medals, five Good Conduct Medals and various service and campaign awards. He is currently employed as the safety and compliance officer for Mitchell Welding Supply in Tyler, Texas.
Hamm is a second-generation Mason and Shriner, following in the footsteps of his father, Denver Hamm. Hamm has been married to his wife, Charlene, for 45 years. Charlene's father, Harold West, was also a Mason. The couple have a daughter, Kerri, who is married to Scott, and a son, Joshua, a Mason and Shriner who is married to Mariah. They have four grandchildren, Makaylah, Hailea, Mykaela and Denver, and a great-grandchild, Caroline.
Contact Us
Questions, comments or concerns? Please submit a form with your questions and we'll get back to you as soon as possible.