Lawrence J. "Larry" Leib (Imperial Oriental Guide)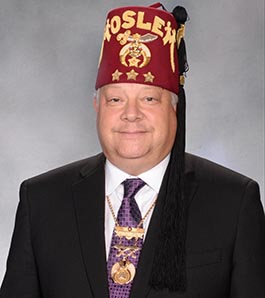 Lawrence J. "Larry" Leib, 33rd Degree, of Farmington Hills, Michigan, is serving his sixth year as a member of the Boards of Directors for Shriners International and Shriners Children's™. He was elected Imperial Oriental Guide, part of the 12-member body that helps govern the Shriners fraternity, during the Shriners 2022 Imperial Session held July 2–7 in Minneapolis, Minnesota..
Fraternities and Philanthropy
Master Mason, Zion Lodge #1, F. & A.M. of Michigan
Ancient & Accepted Scottish Rite NMJ, 33rd Degree Supreme Council Honorary Member
Member, Ancient & Accepted Scottish Rite NMJ, Valley of Michigan
Member, Monroe Chapter #1, Royal Arch Masons of Michigan
Member, Monroe Council #1, R&S of Michigan
Detroit Commandery #1 Knights Templar, Past Commander, 2012 (Most Outstanding Commandery)
York Rite College #1, Detroit, Michigan
Honorary Legion of Honor, DeMolay International
Member, Cabiri International
Potentate, Moslem "Detroit" Shriners, 2015
Director, Iowa Corporation, Shriners International
Director, Colorado Corporation, Shriners Hospitals for Children
Secretary Emeritus, Board of Governors, Shriners Children's Chicago
Executive Committee, Board of Governors, Shriners Children's Chicago, 2004–2010
Member, Donor Relations International Executive Advisory Committee, Shriners Children's, 2010–2012
Chairman of Development, State of Michigan, Shriners Children's , 2004– 2009
Member, Strategic Planning Committee, Shriners International, 2012–2013
Imperial Aide, Shriners International, many years
General Counsel, Moslem "Detroit" Shriners, 2002–2008, 2010–2013
General Counsel, Detroit Shrine Circus, 2002–2013
Michigan State Fair (Detroit Shriners)
Life Member, Moslem "Detroit" Shriners' Directors Staff and Clown units
Member, Benevolent Order of the Crab, Claw #7; Detroit Shiners, Tap #1; Sigmund Society #1
Education
Bachelor of Arts, Economics, Urban Affairs, Michigan State University, 1990
Juris Doctor, University of Detroit School of Law, 1993
Master of Science, Sports Business, University of Michigan, 2000
Professional and Personal
Leib is a third-generation attorney who began his legal career at Leib, Leib and Kramer P.C. in 1994. He was a partner with the firm until 2004, when he left to start his own general practice firm, the Law Offices of Lawrence J. Leib. While he practices in the litigation field, Leib also has a unique specialty in long-term strategic planning for nonprofits, philanthropies and charities.
Leib is a member of the State Bar of Michigan and a fellow of the State Bar of Michigan Foundation. He is a Director of the Sigma Alpha Mu Fraternity Foundation. He served as International President of Sigma Alpha Mu fraternity, which has more than 100,000 members, from 2006 to 2008, concluding 11 years on its International Board of Directors. In 2018, he received the Lifetime Award of Merit for Outstanding Alumni Service in Community Endeavors. He also served on the International Board of Directors for the North American Inter-Fraternity Conference from 2009 to 2015. The NIC annually represents more than 900,000 college men.
Leib's lady is Debbie Binder. He has two children, Caitlin Leib, 20, and Jenner Leib, 18.
Contact Us
Questions, comments or concerns? Please submit a form with your questions and we'll get back to you as soon as possible.