Matthew Sturlaugson (Imperial First Ceremonial Master)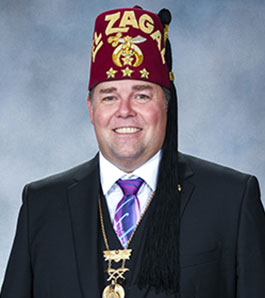 Matthew Sturlaugson, of West Fargo, North Dakota, is serving his fourth year as a member of the Boards of Directors for Shriners International and Shriners Children's™. He was elected Imperial First Ceremonial Master, part of the 12-member body that helps govern the Shriners fraternity, during the Shriners 2023 Imperial Session held July 2-6 in Charlotte, North Carolina.
Fraternities and Philanthropy
Master Mason, Lebanon lodge #34, Langdon, North Dakota, 2003
Plural member, Shiloh #1, Fargo, North Dakota
Member, Ancient & Accepted Scottish Rite, Valley of Fargo
KEM Shriners, Grand Forks, North Dakota, 2003
El Zagal Shriners, Fargo, 2004
Provost Guard, El Zagal Shriners
North Dakota Shrine Bowl Board of Directors, 2004–2020
North Dakota Shrine Bowl Chairman, 2007–2014
Potentate, El Zagal Shriners, 2015
Founder, units and clubs including Young Shriners (YOSHI) and Techies, El Zagal Shriners
Regional Membership Director, Region 4, Shriners International, 2016–2018
Executive Membership Team, Shriners International, 2018–2020
Leadership Seminar Team, Shriners International, 2016–2022
Program Coordinator, Temple Leadership Seminars for Oriental Guides and Assistant Rabbans, 2019–-2022
Education
Bachelor's degree, Organizational Leadership and Management, University of Mary
Professional and Personal
Sturlaugson has been with U.S. Bank since 1996, where he serves as a vice president in the Consumer and Business Banking division. During his tenure there, he has served primarily as a project manager with a focus on process improvements, compliance and regulatory management.
A legacy Shriner, Sturlaugson is dedicated to his family and is intentional about balancing his time with them. He and his wife, Mandii, have three children, Kayli, Carson and Gabriella. The couple support the concept of a Shrine family and believe a family that plays together stays together. In 2018, the Sturlaugsons' youngest daughter was diagnosed with scoliosis and became a Shriners Children's patient. The experience has provided the Sturlaugsons with new insight into the fraternity and philanthropy, through the lens of a patient family.
Contact Us
Questions, comments or concerns? Please submit a form with your questions and we'll get back to you as soon as possible.