Kenneth G. "Kenny" Craven (Junior Past Imperial Potentate)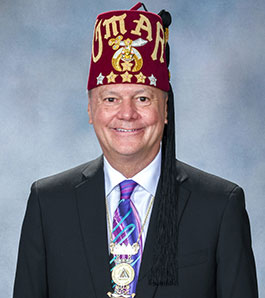 Kenneth G. "Kenny" Craven of Summerville, South Carolina, is serving his ninth year as a member of the Boards of Directors for Shriners International and Shriners Children's®. He was elected Imperial Potentate, part of the 12-member body that helps govern the Shriners fraternity, during the Shriners 2022 Imperial Session held July 2–7 in Minneapolis, Minnesota.
Fraternity and Philanthropy
Master Mason, Summerville Lodge #234
Worshipful Master, Summerville Lodge #234, 1994
Founder, "Smoke at the Lodge" barbeque competition, an event he developed into the largest Masonic fundraiser in South Carolina
Member, Omar Shriners, Charleston, South Carolina, 1988
Potentate, Omar Shriners, 2012. While he served in that role, the temple achieved Gold Membership status, with gains for the first time since 2008
Creator, Beach Boogie BBQ Festival, Myrtle Beach, South Carolina, 2006
Emeritus member, Shrine Bowl of the Carolinas
Founding member, Ford Motor Company Program for Shriners Hospitals for Children
Honorary Legion of Honor, DeMolay International
Past chairman of the East-West Shrine Bowl, Shriners Children's College Classic, and Imperial Sports committees.
During tenure as a board member, helped establish partnership with ESPN for the Shriners Children's Charleston Classic.
Developed affiliation agreement with Medical University of South Carolina (MUSC) for an official Shriners pediatric burn center in Charleston
Personal and Professional
Craven is an experienced member of the automotive industry. Craven serves on the Board of Directors of the Charleston Restaurant Association, a nonprofit organization that now recognizes Shriners Children's as its official charity. He has an active role in supporting the Joe Gibbs Game Plan for Life ministry and regularly hosts prayer breakfasts with Coach Gibbs at Shriners International temples across North America.
Craven and his wife, Jennifer, have been together for 22 years. Craven has one daughter, Stacey, who served as Queen of the Charleston Daughters of the Nile. He is the proud grandfather of Ella Grace. Several men in Craven's family are members of Omar Shriners and the Shriners' Legacy Program. In his spare time Craven enjoys boating, hunting and, during football season, watching the Washington Commanders and the University of South Carolina Gamecocks.
Contact Us
Questions, comments or concerns? Please submit a form with your questions and we'll get back to you as soon as possible.