Debra Owens Bailey, First Lady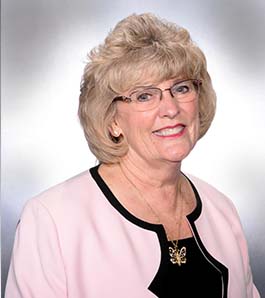 Debby Bailey was a seasoned fifth-grade student in Chicago Heights, Illinois, when she met an enthusiastic first-grader who was just starting to learn his alphabet using Braille. It was at that moment that Debby realized that she wanted to teach children with visual impairments.
Debby attended college at Illinois State University, earning a Bachelor of Science degree in special education with a minor in elementary education. In 1977, she received her Master of Education degree from Florida State University.
Debby has taught blind and visually impaired children for 33 years, with students ranging from preschool, to elementary, to middle school and even high school. She has been instrumental in organizing support groups for parents of students who are blind or visually impaired. For her dedication to students and their parents, Debby was recognized by the Council for Exceptional Children as Indiana's Teacher of Year in 1983.
Debby is a founding member of MOPS, Mothers of Pre-Schoolers, at the Ogden Dunes Community Church. She has assisted her church by serving as an alto in the church choir, as a deacon and as a Vacation Bible School teacher. In addition, Debby served as a Team Leader for several Great Banquets, a weekend Christian retreat.
Debby has been extremely active in several local philanthropic sororities. Since 1982, Debby has been a member of PEO, a sorority that focuses on providing educational opportunities for female students. She has been a member of Tri Kappa, an Indiana-based philanthropic sorority that concentrates on culture, charity and education, since 1983. Debby served as the local Chapter President from 1994 to 1996.
Debby has been a member of Daughters of the Nile since 1986 and a member of the Ladies Oriental Shrine of North America since 2019. Debby served as the founding Board member on the Board of Directors for the South Bend Scottish Rite Dyslexia Center.
Debby and Bill will be celebrating their 43 years of marriage this year. In that time, Debby has unfailingly supported Bill on his journey through the Scottish Rite chairs, the Orak Divan line and for the last 10 years as an Imperial Lady. She has juggled a career as a vision teacher with her commitment to her church family, service to her community and raising sons Rob and Ross. Now she is delighted to indulge her four grandchildren, Parker, Henry, Beau and Finn.
Debby is looking forward to sharing her program, Transforming Lives, which shines a light on children who have scoliosis, which is a curvature of the spine, and the treatments that are available for this condition. The physicians and staff of Shriners Children's have pioneered medical breakthroughs and exciting new treatment options that allow children who have scoliosis to enjoy rich, full lives.
Contact Us
Questions, comments or concerns? Please submit a form with your questions and we'll get back to you as soon as possible.