Jennifer "JJ" Craven, First Lady, Shriners International 2022-2023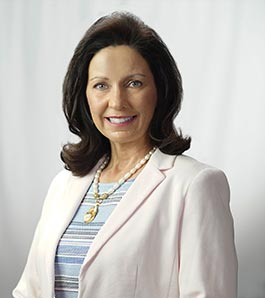 Jennifer Jill Craven, known as "JJ," was born and raised in Summerville, South Carolina, the youngest of five siblings. Along with her deep love for family and friends, JJ says she is defined and inspired by her deep connection to the Lowcountry, as this area of South Carolina is called.
JJ graduated from Furman University in Greenville, South Carolina, with a Bachelor of Arts degree in accounting, and earned her Master's degree in taxation at the University of South Carolina. She had her first experience with Shriners Children's when she volunteered at the Greenville hospital as part of her college community service requirement. Although JJ's time there wasn't long, the experience had a big impact on her. Even so, she had no way of knowing how big a part of her life Shriners Children's would come to play.
JJ worked as an auditor for the South Carolina Department of Revenue, then as a comptroller for a small land development company. In 1997, she began her own small bookkeeping and tax preparation business, which she still runs today. JJ says her love of numbers and the rigid balancing of numbers and budgets have given her a lifetime of enjoyment in her career.
JJ met Kenny Craven in 2000, and they have been together for more than 22 years. The couple were married in the Summerville Baptist Church, of which JJ is a lifelong member. "Kenny already had a daughter, Stacey, when I met him, and she has certainly become my daughter too," JJ said. "I couldn't ask for a better person in my life to call a daughter than Stacey." In 2020, Stacey and Stephen gave the couple their first grandchild, Ella Grace.
A member of the Daughters of the Nile since 2008, JJ is proud to have the honor of standing by Kenny's side through their journey with the Shriners. While balancing their home life and her career, she has also unfailingly supported Kenny in his service to Shriners International and Shriners Children's, and she shares his deep love of the mission.
JJ is looking forward to promoting Women Impacting Care, formerly known as the First Lady's program. This collaborative effort shines a light on the extraordinary care provided at Shriners Children's. JJ chose the program's 2022–2023 theme, The World is Your Oyster, for its inspiring message that reflects how our patients' grit and determination come together with the expertise of our healthcare specialists to overcome challenges and create endless possibilities for success and recovery. The World is Your Oyster focuses on Shriners Children's care for pediatric sports- and play-related injuries by bringing awareness of the conditions treated and by helping potential patients and families learn how to access this care.
Contact Us
Questions, comments or concerns? Please submit a form with your questions and we'll get back to you as soon as possible.