Oasis Shriners Pickers Strike a Chord as Newest Addition to Shriners' Music Units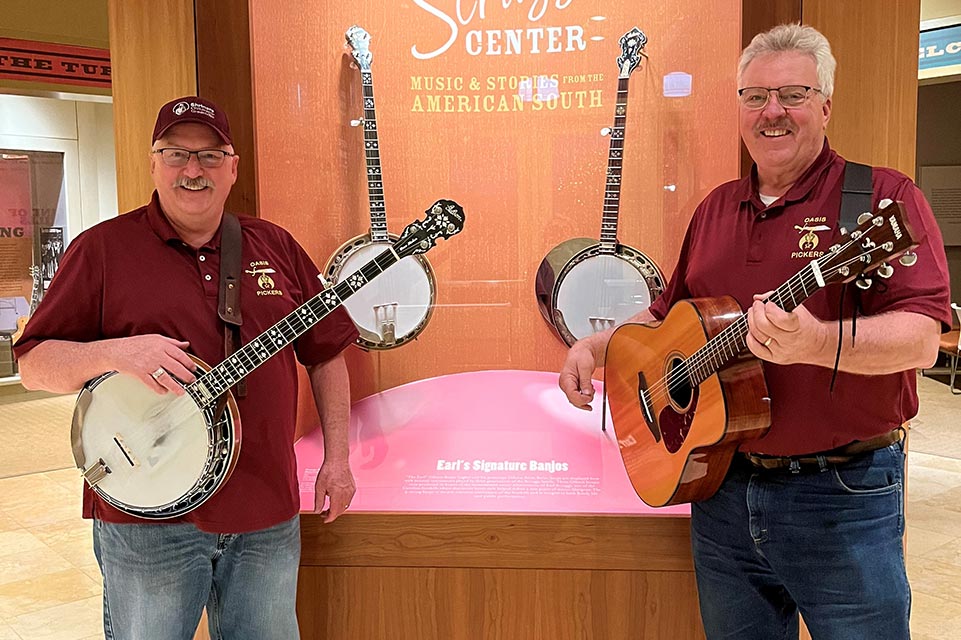 They're a pickin' and a grinnin' at Oasis Shiners (Charlotte, North Carolina) these days, thanks to the new Oasis Pickers unit. String musicians of all levels come together for acoustic jam sessions of traditional Appalachian/Bluegrass/Americana music genres.
Club founder and banjo player David Mahan retired to North Carolina and found theclubs weren't as large as his previous temples (chapters) and there were no units. "I had learned to play a banjo and had been to a lot of Bluegrass jams over the years, so I thought about how to put these two things together to make up the unit," he said. "I pitched the idea to my local club and everyone said they were OK with giving it a try." The unit currently has 25 members and they are looking for more.
Mahan said the new unit is also helpful for recruiting new members. "We're pickin' prior to lodge meetings and visiting club meetings." He hopes to expand the unit to all 50 counties in the Oasis Shriners jurisdiction, and expand activities to more Shrine events, parades and Bluegrass festivals. Most recently, the Oasis Pickers played at a jam session at the Earl Scruggs Center in Shelby, North Carolina. Scruggs introduced the three-finger banjo picking style and popularized the banjo across genres of music.
The unit will also raise funds for Shriners Children's and hopes to encourage patients to try guitar playing. The group recently accepted a donation of three guitars: two will go to Shriners Children's patients who have an interest in learning the instrument, and the other will be part of a fundraising drawing to benefit the pediatric healthcare system.
The Pickers welcome Shriners, Masons and family members of all musical experience levels to jam, learn to play, be roadies or come on out to listen and have fun.
Keep up with Oasis Pickers on their Facebook group page.
Do you have a new club or unit at your temple? We want to hear about it. Share your story.
Stay in Touch
Join our mailing list to keep up-to-date on all that's happening at Shriners International.