Dayton Shriner Named Volunteer Fundraiser of the Year
Congratulations to John Bull, vice chairman of Shriners Children's Ohio and Past Potentate (president) of Antioch Shriners, who was recognized for his fundraising and philanthropy efforts in his local community.
In honor of National Philanthropy Day, Bull was named Outstanding Fundraising Volunteer by the Dayton chapter of the Association of Fundraising Professionals (AFP). The mission of AFP, an association of professionals throughout the world, is to advance philanthropy by enabling people and organizations to practice ethical and effective fundraising. Last year, Bull raised $400,000 for Shriners Children's Ohio.
View the list of all the 2022 winners.
Legacy of Giving
Bull serves as the vice chairman of the Shriners Children's Ohio Board of Governors. He is a Past Potentate of Antioch Shriners and has been involved with the leadership of several Masonic temples and Shriners International clubs and units.
When Shriners Children's Ohio moved from Cincinnati to Dayton, Bull was instrumental in fundraising for the hospital location naming campaign. He spoke at numerous Shriners International clubs and Masonic temples throughout the Miami Valley to secure major gifts. He also led the effort to auction the artifacts from the Cincinnati location. When Shriners Children's needed to raise money for an emergency patient transport from Grenada, Bull secured the money to bring this child to Dayton. His influence with Shriners Children's and donors in the region is unmatched.
Just during the last year, Bull raised $400,000 for the location naming campaign, emergency transportation fund and patient services. However, he's spent 40+ years raising money for Shriners and Masonic organizations. His father was an active Shriner and now his son is also involved, completing a legacy of giving to Shriners Children's.
Support and Fundraising
Bull is a dedicated board member of Shriners Children's Ohio, and donates his time for countless meetings. He worked closely with the hospital's team to sell the building in Cincinnati, and his professional experience made him uniquely qualified to help with the construction of the facility in Dayton. Bull is the "go-to" person for the local Shriners because he is so involved and committed. He is constantly thinking of ways to position Shriners Children's Ohio in the most positive light locally, regionally and nationally. His wife, Pam, is by his side and devotes as much time to supporting Shriners International and Shriners Children's as he does. You can find Bull volunteering at various fundraisers and organizing other volunteers to participate. His personal financial commitment to Shriners Children's, Shriners International and Freemasonry is what all organizations hope for: he gives his time, talent and treasure.
Shriners Children's Ohio provides care for children with acute burns, craniofacial conditions, and those who need plastic/reconstructive surgery, regardless of the families' ability to pay or insurance status. As a volunteer fundraiser, Bull helps the hospital's development team reach its annual fundraising goals.
Bull leads with character and charisma. His personal dedication to supporting Shriners Children's Ohio is a powerful example of commitment. He is highly-respected by peers, fellow Shriners and Shriners Children's staff. He is not afraid to speak his mind or challenge the status quo. Bull strives for excellence, has a great sense of humor, and promotes fun and fellowship. He is responsive and helpful to the Shriners Children's fundraising team, and always positions them for success. The hospital views him as an extension of their philanthropy team because of his motivation, relationships and effectiveness.
In addition to supporting Shriners Children's Ohio, Bull actively raises money for the Bull Family Diabetes Center at Miami Valley Hospital through an annual golf outing. He's been an officer in the Far Hills Masonic Lodge, Antioch Shrine Center, and has served as the regional membership director for Shriners International.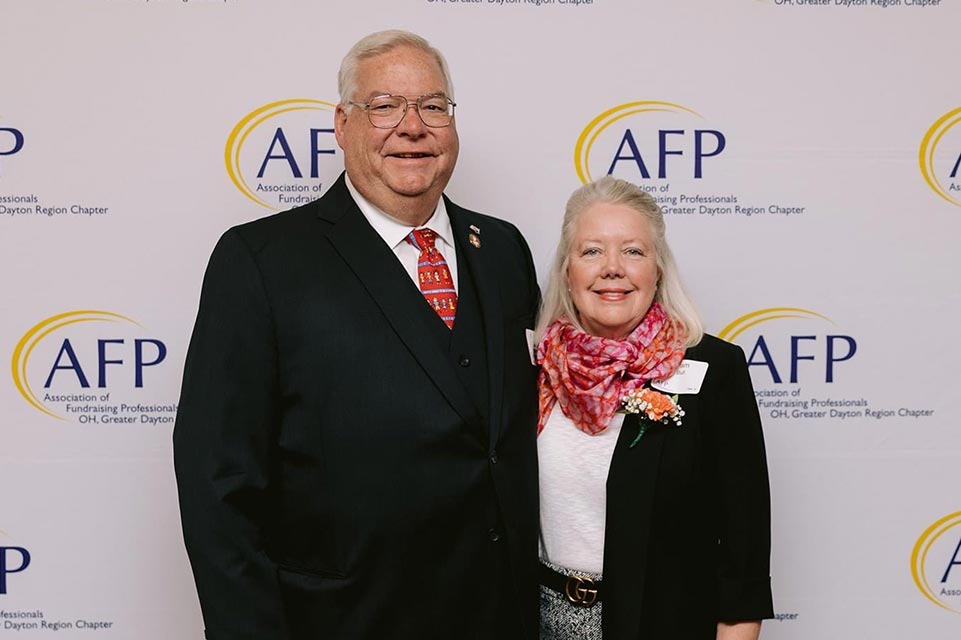 Stay in Touch
Join our mailing list to keep up-to-date on all that's happening at Shriners International.