New Imperial Potentate Prepared to Lead
The 2021-2022 Imperial year is a momentous one for both our organizations – Shriners International will celebrate its 150th anniversary and Shriners Hospitals for Children will mark its 100th.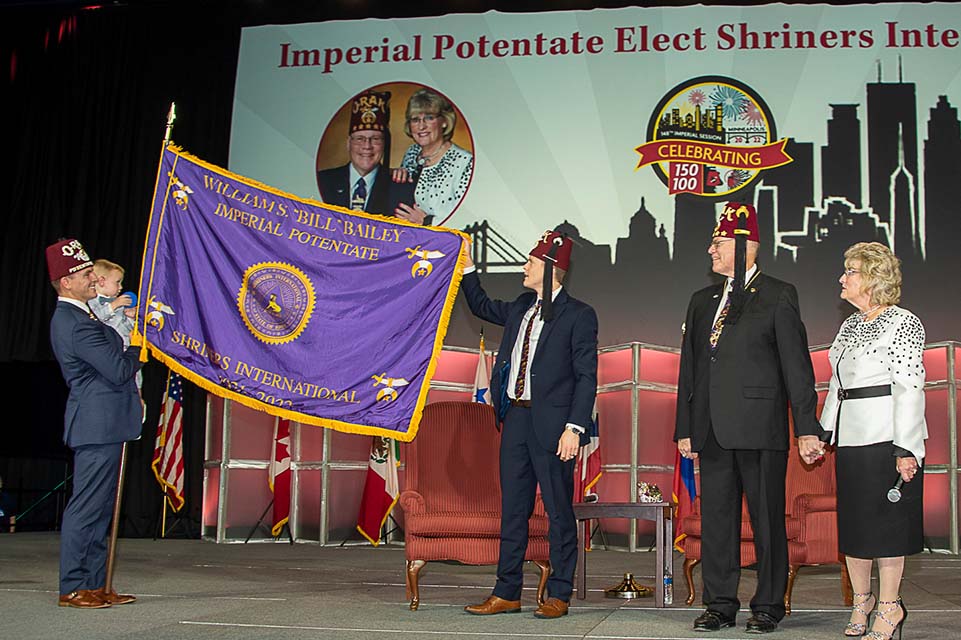 Leading us in this historic year is a Legacy Shriner, William S. "Bill" Bailey, 33°, the 2021-2022 Imperial Potentate of Shriners International. Together with his father, Robert B. Bailey, 33°, Imperial Potentate of Shriners International in 1995-1996, they are only the second father and son to serve as Imperial Potentates.
In addition to ensuring that our remarkable histories are remembered and honored this year, Imperial Sir Bailey will also emphasize increasing membership in the fraternity, and continue to remind every Shriner to share their story with family, friends, co-workers and neighbors, and encourage them to become part of this amazing brother-hood which does so much to improve both communities and the lives of children and families. It is important to remember that the strength of the fraternity directly impacts the philanthropy.
Bailey is a member of Orak Shriners in Michigan City, Indiana, and served as the temple's Potentate in 2009. He is a member of the Arab Patrol, Motor Patrol, Oriental Band, Sportsman's Club and the South Lake County Shrine Club. He was Director General for the 1987 Great Lakes Shrine Association Business Session in Merrillville, Indiana. He is also member of Porter Lodge #137 in Valparaiso, Indiana, and a member of the Elbert H. Gary York Rite. He is past Commander in Chief of the South Bend Valley of Scottish Rite, where he was coroneted with a 33rd Degree in 1997.
A History of Service and Leadership
As a member of the Board of Directors, Bailey has served as Chairman of Marketing and Communications, Donor Relations, Hospital Operations, Temple Officers Educational Seminars and Temple Procedures. He has also served on the Strategic Planning, Building and Equipment, Membership, Investments, Budget, Insurance, Real Estate and Natural Resources, Clinical and Basic Research Committees, and DeMolay, as well as the Shriners Children's Open.
He has served as hospital liaison to the Erie hospital, the Cincinnati hospital, which is now Shriners Children's Ohio, the Houston hospital, which is now part of Shriners Children's Texas, the Greenville, Shreveport and Canada hospitals, and the Twin Cities clinic. For 29 years, Bailey served on the Imperial Marshal's Aide Committee, and for 16 of those years, he served as a Vice-Chairman of the Imperial Marshal's Staff.
At the 2005 Imperial Session in Baltimore, Maryland, Bailey was awarded the Imperial Potentate's Award of Merit – the highest honor in the fraternity.
Bailey is an emeritus member of the Iowa Corporation and an emeritus member of the Board of Governors of Shriners Children's Chicago. He serves as Sovereign of the Red Cross of Constantine, is a member of the Indiana College of Rosicrucians – 8th grade and is a member of DeMolay International, which recently awarded him the DeMolay Legion of Honor.
A Bit of Personal History
Bailey was born and raised in Ogden Dunes, Indiana, a small community on the shores of Lake Michigan, where he and his wife, First Lady Debby, still reside. The couple have been married for 43 years and are proud to have two sons who are following the family tradition of being Shriners. Rob Bailey is married to Jackie, and they have two children, Parker Rose and Beau Owens. Ross is married to Jessica, and they also have two children, Henry Michael and Finn Joseph.
Stay in Touch
Join our mailing list to keep up-to-date on all that's happening at Shriners International.