Many Spokes on the Wheel
Shriners Legacy Program Connects Family Members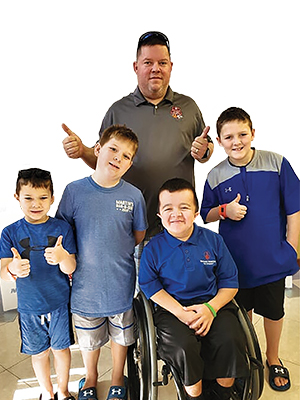 Ryan Otis always knew becoming a Shriner was meant to be. Now a member of Shriners Hospitals for Children — Boston's Board of Governors and the Anah Shriners Divan, Ryan grew up in a family of Shriners.
His grandfather, Lewis Weaver, father, Richard Otis, and brother, Chad Otis, are all Shriners. Supporting the fraternity is part of the fabric of his family. As a young boy in Pennsylvania, Ryan loved to go with his father to the circus hosted by the Zembo Shriners. As he got older, he understood how the fraternity supports the mission of Shriners Hospitals for Children. "Being part of this great work was just the right thing to do," he said.
The Shriners legacy is something to be proud of, Ryan said. "We have a deep connection to the Shrine. I didn't have the opportunity to Shrine with my grandfather, but I did with my father. It's an important part of our history."
In addition to his immediate relatives, Ryan has many other family members and connections who are Shriners, including cousins, uncles and great-uncles. There are Shriners on his wife's side of the family too, including a Past Potentate. "There are a lot of spokes on the wheel," Ryan said. "We are all connected, going back generations."
This special connection can roll forward, too. Ryan has three young sons who he hopes will join the fraternity one day. "They can extend the legacy," he said.
Shriners International Legacy Program
The Legacy Program celebrates our fraternal bonds with those closest to us. Shriners International invites nobles to be part of the Legacy Program and to encourage family members to participate.
Shriners International Legacy Month is celebrated in June, coinciding with Shriners International Awareness Day (June 6) and Father's Day. This special time unites nobles who make their fraternal membership a family tradition – welcoming grandfathers, fathers, sons, uncles and nephews, in-laws and others who have multiple Shriners within the same family. During this month, temples are encouraged to promote membership and honor the members who have taken part in this program.
Pass Along the Shriners Legacy
All family members who are Shriners are eligible to become part of the Legacy Program. To make the registration process easy, only one member of the family's legacy needs to register on Shriners Village. When logging in to your account on shrinersvillage.com, click on the "Membership" tab on the top of the web page. From this page, select "Legacy Program" on the left-hand side of the screen.
Each Legacy can download a certificate signed by the Imperial Potentate and Imperial Recorder. Shriners and their registered relatives can also order a special gold Legacy pin. Any new Shriners Legacy is eligible to receive a free pin for himself and up to two of his Shrine legacies. Nobles who became Shriners legacies prior to Jan. 1, 2012, are encouraged to become part of Shriners Legacy Program; these nobles may order a Legacy pin and certificate for themselves and their legacies for a contribution of $5 or more per pin.
Stay in Touch
Join our mailing list to keep up-to-date on all that's happening at Shriners International.