It Is in Our DNA to Help Others
Shriners Are Dedicated To Offering Support and Comfort
While the COVID-19 pandemic has made it difficult for Shriners to meet and conduct business, there is one thing that the coronavirus can't stop: nobles' commitment to helping their communities. Here are a few examples:
Ben Ali Shriners
Since hygiene products are in short supply, nobles participated in a toiletry drive organized by staff members from Shriners Hospitals for Children — Northern California. Ben Ali Shriners and hospital volunteers collected thousands of travel-size shampoos, conditioners, soaps and other supplies. Collection bins were placed in the lobby of the hospital for donations from employees, and hospital volunteers were invited to drop off toiletries with Ben Ali Shriners, who collected donations in a drive-through format, with social distancing precautions in place. The items were donated to River City Food Bank for distribution to hundreds of families in the community.
"The event was very successful even during an ongoing pandemic," said Ben Ali's Chief Rabban, Bill Wells. "The community wants to donate to fantastic causes, whether it is for Shriners Hospitals for Children or for other community organizations. They are all in need of assistance during this difficult time.
"Shriners don't only support their Shrine temples or our hospital system, but we also support our local communities," Wells said. "Shriners volunteerism goes hand-in-hand with being a Mason. We have compassion and concern for others. It is in our DNA to help others in need."
Help From Around Canada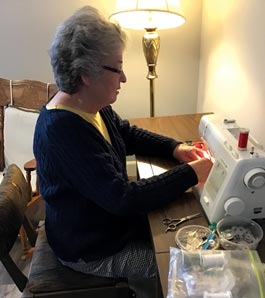 Nearly 100 ladies representing women's organizations across Canada that support the work of Shriners Hospitals for Children — Canada have provided more than 500 reusable masks to the hospital. The ladies chose fabric with fun and colorful patterns to brighten up the days of staff members and patients. These ladies have also made 450 reusable gowns that are currently in use in the hospital. The generous seamstresses are members of the sewing units of Ladies' Oriental Shrine of North America, Daughters of the Nile, WA WA Ladies Auxiliary, Ladies of the Saber and Karnak Ladies Auxiliary.
Waterloo County Shrine Club, Mocha Shriners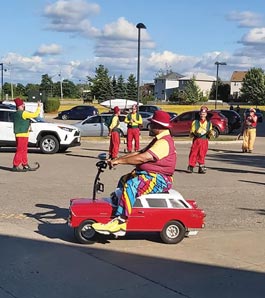 They are a fixture at festivals and parades across the region, and recently the Waterloo Shrine Oriental Band, which has been silent during the pandemic, got the chance to play once again. The musicians had the opportunity to entertain crowds at the Parkwood Mennonite Seniors Home in Waterloo, Ontario, Canada.
Nobles serenaded staff and residents to show their appreciation for front line workers.
They also stopped by an outdoor birthday party for Rory Banfield, whose father surprised him with a unique present.
"There's a fellow Shriner here and it's his son's seventh birthday, and we could also coordinate a trip around the retirement home, retirement community, so it's kind of fun to see a smile on some of those faces," said Rollie Galbraith, president of Waterloo Shrine Oriental Band.
Each year the band raises around $10,000 for Shriners Hospitals for Children.
Villages Shrine Club, Bahia Shriners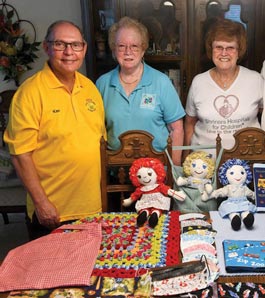 Members of The Villages Shrine Club teamed up with their ladies who are involved in sewing and quilting groups to make and distribute masks and handmade comfort items for kids.

"We have made over 47,000 masks," Sandy Norris said, referring to the Quilting Guild of The Villages members. "(The masks) are going to hospitals, some for children and some for their families, adults." Nearly 1,000 of the masks have gone to Shriners Healthcare for Children — Florida.

Other lovingly made donations include colorful pillow cases, soft blankets for hospital beds, child-sized quilts with hand-stitched "roads" for toy cars to race from one corner of the fabric to another, and handmade baby dolls.

Noble Jim Chaffin and his Lady Judy drive to Tampa to deliver the donations to the health care facility. "All you have to do is see one child's face," Judy said of giving away the colorful gifts.
Cyprus Shriners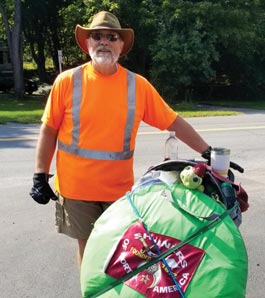 Eric Morabito of Cyprus Shriners was recently recognized by People magazine as one of 25 Reasons for Hope in America. Noble Morabito, 57, walks from Highland, New York, to hospital locations in Springfield and Boston, Massachusetts, a distance of roughly 250 miles, gathering donations for the healthcare system. According to the magazine, after seven treks, he has raised more than $60,000.
Maine Shrine Lobster Bowl Classic
Even though the 31st annual Maine Shrine Lobster Bowl Classic was canceled because of the coronavirus pandemic, the all-star football game was still a fundraising success. More than 83% of the players and cheerleaders (113 of 136) selected to participate in the game continued with their fundraising efforts and raised over $75,000 to support the Shriners Hospitals in Boston and Springfield, Massachusetts.
Lobster Bowl President Joe Hersom said that most years, participants raise $100,000 to $120,000. But because the expense of putting on the game was significantly lower this year, the Lobster Bowl and its sponsor group, the Kora Shriners of Lewiston, Maine, expect to make their largest donation ever to the hospitals. Hersom said the players who raised money will receive Lobster Bowl uniform jerseys, each with the number they wore in high school.
Stay in Touch
Join our mailing list to keep up-to-date on all that's happening at Shriners International.