James R Smith Elected Imperial Potentate
A Ben Hur Shriner Will Lead the Fraternity for the 2020-2021 Imperial Year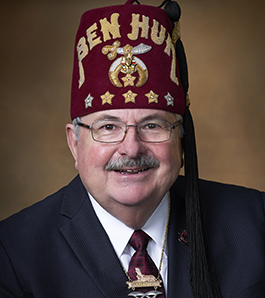 James R. "Jim" Smith of Georgetown, Texas, was elected Imperial Potentate, part of the 12-member body that helps govern the Shriners fraternity, in Tampa, Florida, on July 11, 2020. He is serving his 10th year as a member of the Boards of Directors for Shriners International and Shriners Hospitals for Children.
Smith became a member of the Imperial line to make a difference. "I really thought I could help," he said. "We need to strengthen the temples and ensure they are places where people want to go, and are welcomed. We have to make it attractive to join. To put it in business terms, we need to offer a better product."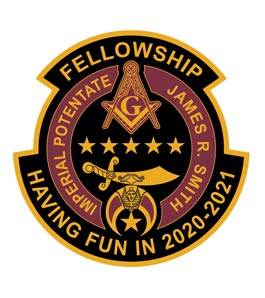 His Masonic Journey
Smith became a Mason on Feb. 13, 1999, and a Shriner in 2004. He joined the fraternity as a way to acknowledge and give back to the organizations that assisted a nephew who had orthopaedic difficulties, and received care at Shriners Hospitals for Children — Chicago throughout his childhood.
Smith joined Zor Shriners in Madison, Wisconsin. When the family moved to Georgetown, Texas, he joined Ben Hur Shriners in Austin where he participated in the Provost Guard and helped transport children to and from the Texas Shriners Hospitals. He also was a member of the Board of Governors for the Houston Shriners Hospital.
In 2009, Smith served as Potentate of Ben Hur Shriners. That year, the temple had a balanced budget for the first time in many years and was awarded a Gold Membership Award for a net gain in membership. It was the first time Ben Hur Shriners had achieved gold status in 38 years.
Fun and Fellowship
Smith believes the fraternity needs to emphasize and focus on its original purpose of bringing fun and fellowship to a Masonic organization.
"When the Shriners fraternity started in 1872, its purpose was fun and fellowship," said Smith. "We did well with that – but we've lost our focus. As Imperial Potentate, I will try to put Fun and Fellowship back in the fraternity."
Smith has established a Fun and Fellowship Council to help find ways for "Nobles and ladies to have a good time."
Finding that "better product," and promoting it effectively, will positively impact the fraternity's membership numbers and future, which is critically important to the Shriners organization, Smith said.
Family, Faith and Education
A native of Racine, Wisconsin, Smith spent his childhood summers on his father's family farm. "I really enjoyed that time. It was a great way to be raised," he said.
Growing up, the importance of family and faith were deeply instilled – to this day, he continues to uphold the conservative values and Lutheran faith of his family.
Smith received his bachelor's degree in Business Administration from the University of Wisconsin. He studied for his MBA at the Keller School of Management in Chicago.
The Smith Family
Mary Lou Jones and Alice Smith shared a classroom when both were young teachers. Her husband, Bob Jones, was a friend of Jim Smith and arranged a blind date to bring the future Mr. and Mrs. Smith together. Jim and Alice were married 10 months later in Alice's hometown of Kilkenny, Minnesota, and celebrated their 48th wedding anniversary in August.
As Jim's career with a conveyor systems company progressed, the family moved quite often, mostly to various cities in Wisconsin and Minnesota, but they also spent time in Illinois and on the East Coast. Eventually, they purchased a fuel company in Phillips, Wisconsin, which was their last move before retiring to Georgetown, Texas.
The Smiths have a son, Jason, and a daughter, Abby, and five grandchildren. The fraternal tradition will continue in the Smith family for at least the next generation – both Jason and Abby's husband, Greg, are Shriners.
Stay in Touch
Join our mailing list to keep up-to-date on all that's happening at Shriners International.