Caring For Others in a Time of Crisis
As a fraternity, the Shriners are devoted to serving their communities.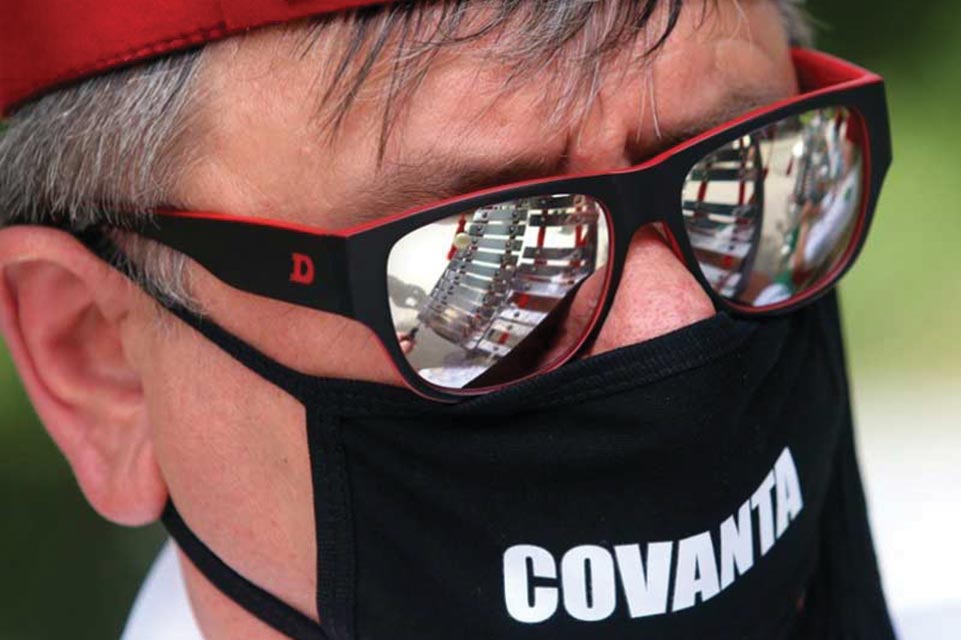 In the face of the COVID-19 crisis, our members have found a multitude of opportunities to offer fellowship and aid to friends, neighbors and local health care workers. Here are the stories of just a few such efforts.
Gizeh Shriners
British Columbia and Yukon, Canada
The Gizeh Drum and Bugle Corps Unit performed a socially distanced concert for the residents of Lakeshore Care Centre, a long-term care facility. The outdoor show featured a collection of tunes put together by Musical Director Wayne Reese. Afterward, the Lakeshore Care Centre staff provided a pizza lunch to show their appreciation.
Members of Cowichan Valley Shrine Club served meals to health care workers at Cowichan District Hospital. They set up in the employee parking lot, timing their efforts to coincide with the various shift changes, and cooked hotdogs and hamburgers. The club was able to feed approximately 350 people.
Noble Rick Mellson is one of the chairs of the club's Cook Wagon committee. "We just want to give back to them and to give back to the community that supports us so well," he said.
"All of us thought it's something we should do for the staff," said Noble Harold Wallace. "We are a community organization and we want to be able to give something back to the staff who are working their tails off for us."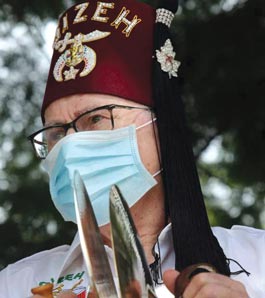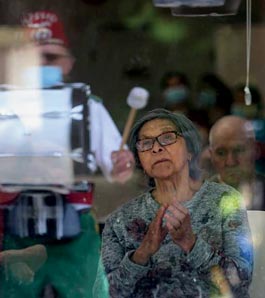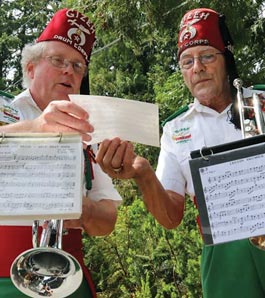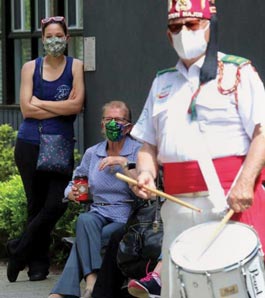 El Zagal Shriners
Fargo, North Dakota
Since March, Misfits BBQ of El Zagal has been supporting the temple, nobility, community and health care workers by providing nourishment in the form of delicious barbecue meals.
"We had a Shrine Temple that was closed," said Potentate Mike Dow. "We wanted to generate some revenue and help others. We provided meals to members in distress and families in distress. At one of our weekend barbecues, we gave away several meals to health care workers."
Dow said it was a perfect way to stay in contact with nobles, without contact.
"Many people were getting weary of cooking at home," said Imperial Sir Matt Sturlaugson. "We would barbecue ribs, pork butts, brisket and pork loins. We set up in our temple parking lot with drive-through, no-contact serving. People would order in advance, pay online or at the event and have their main course for supper done for them."
The Misfits raised funds for the temple administration to help defray costs through the pandemic. "We now are looking to use some profits to help nobles and units and clubs in distress," Sturlaugson said.
Hadi Shriners
Evansville, Indiana
No one does a parade better than Shriners. So, when the community planned an outdoor, socially distanced celebration for a woman's 90th birthday, Edna Mosby specifically requested the Shriners be part of it. Seeing the Shriners had always been Edna's favorite part of a parade.
Hadi Shriners were happy to answer the call. "It means a lot if you can put a smile on someone's face," said Noble Randy Eades. "If you can't give back, there's not a whole lot of reason to be here."
Abou Saad Shriners
Panama
The club in El Salvador donated 1,700 sheets and 1,500 masks to the minister of public works. The donation was valued at more than $7,500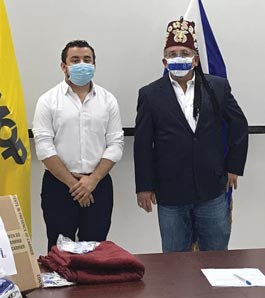 Stay in Touch
Join our mailing list to keep up-to-date on all that's happening at Shriners International.