James E. "Ed" Stolze Jr. (Imperial Chief Rabban)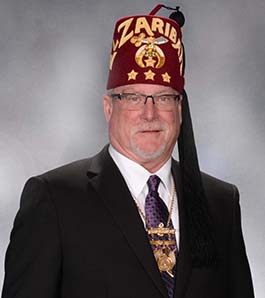 James E. "Ed" Stolze Jr. of Peoria, Arizona, is serving his ninth year as a member of the Boards of Directors for Shriners International and Shriners Children's™. He was elected Imperial Chief Rabban, part of the 12-member body that helps govern the Shriners fraternity, during the Shriners 2022 Imperial Session held July 2–7 in Minneapolis, Minnesota..
Fraternities and Philanthropy
Master Mason, Doric Lodge #44, Chesapeake, Virginia, 1992
Charter member, Hunters Paradise Lodge #85, Phoenix, Arizona
Past Master, Northern Lights Masonic Military Lodge
Potentate, El Zaribah Shriners, 2013
Captain of the Temple Guard, Ritual Divan Member, and Founding Director and Member of Shrine Masonic 1st Degree Team
Treasurer, Western Shrine Association, 2013–2015
Member, Ancient & Accepted Scottish Rite, Valley of Phoenix
Member, Arizona Chapter #1 RAM, Phoenix Council #4 R&SM, and Phoenix Commandery #3 Knights Templar
Honorary Legion of Honor, DeMolay International
Honorary Member, DeMolay International Supreme Council
Member, DeMolay King Solomon Honorary Chapter in Arizona
Member, CBCS West Gate Scottish Masters of St. Andrews
Emeritus member, Board of Governors of Shriners Children's Southern California
Education
Bachelor's degree, Sociology, Excelsior College
Master's degree, human relations and leadership, University of Oklahoma
Professional and Personal
Stolze enlisted in the Navy as a computer technician and was promoted through the ranks to Chief Petty Officer. Selected for Officer Indoctrination School, he was commissioned as an Electronics Maintenance Officer. After more than 25 years in the Navy, he retired as a Lieutenant Commander, while serving as the Electronics Maintenance Officer for the Pacific Fleet.
Before retiring in 2017, he was the chief technology officer for a large school district in Phoenix. Stolze is a senior leadership consultant for JoshLind Consulting Company.
Stolze and his late wife, Cheryl, were married for 29 years and have two children, Joshua and Lindsey. Joshua works for a financial investment company in Vancouver, Washington, and Lindsey (Joey) is a Ph.D. Genetic Scientist at the University of Arizona.
Contact Us
Questions, comments or concerns? Please submit a form with your questions and we'll get back to you as soon as possible.