James E. "Ed" Stolze Jr. (Imperial Potentate)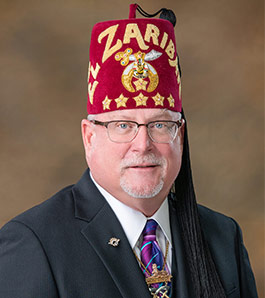 James E. "Ed" Stolze Jr. of Peoria, Arizona, is serving his 10th year as a member of the Boards of Directors for Shriners International and Shriners Children's™. He was elected Imperial Chief Potentate, part of the 12-member body that helps govern the Shriners fraternity, during the Shriners 2023 Imperial Session held July 2–6 in Charlotte, North Carolina.
To James E. "Ed" Stolze, family is everything. That includes his Arizona family — where 289 residents of Phoenix are not only his neighbors but also his blood relatives — as well as his Shrine family. In both, the bonds are tight.
Ed was born in Phoenix, Arizona, and raised alongside dozens of cousins. He fondly remembers his aunts and uncles playing cards at his grandparents' house every Saturday night. To this day, Ed and his family still play cards together every weekend, with games presided over by his aunts and uncles and their potluck style meals always featuring more desserts than entrees.
It's this family bond that Ed wants to nurture in the fraternity.
Ed met his late wife Cheryl, in 1985, and they married in 1987. Both were in the military, and they moved often. Their two children were born in Virginia, and the family lived in places including Iceland; Hawaii; Phoenix, Arizona; Biloxi, Mississippi; and San Diego, California.
Stolze enlisted in the Navy as a computer technician and was promoted through the ranks to Chief Petty Officer. Selected for Officer Indoctrination School, he was commissioned as an Electronics Maintenance Officer. After more than 25 years in the Navy, he retired in 2002 as a Lieutenant Commander, while serving as the Electronics Maintenance Officer for the Pacific Fleet. He looked forward to having his family closer together upon his retirement.
For his second act, Ed served as the Chief Technology Officer for a large school district in Phoenix, retiring in 2017. In addition, he is a senior leadership consultant for a family-owned consulting company.
Ed's Masonic journey began in Chesapeake, Virginia, where he was raised as a Master Mason of Doric Lodge #44 in 1992. Later, he became a charter member of Hunters Paradise Lodge #85, in Phoenix.
The "newest Noble" on the Joint Boards, Ed became a Shriner in 2005. His talent and dedication to the fraternity quickly led him into leadership. He served on the Divan of El Zaribah Shrine starting in 2009 and became Potentate in 2013. In 2014, with support from his wife and family, he started campaigning for election to the Imperial Divan.
Although he lost his first election, he continued his campaign efforts. Then tragedy struck. His wife Cheryl was diagnosed with pancreatic cancer and passed away just 17 days later. Among her last wishes was a strong desire that Ed continue to run for Imperial office. She knew that it would be his Mason and Shrine family who would keep him going.
She was right. Ed says that as he was campaigning, there were times when he felt so lonely, in a room full of people. But in a room full of Shriners, he was no longer lonely. That's what the Shrine family is all about.
Ed is proud to be here today, serving this great fraternity and fulfilling the promise he made to Cheryl. He's grateful to everyone who helped him along the way, especially his children, Josh and Joey, and his best friend and partner JoLynn Dickins, who has supported him over the years and is generously and graciously serving with him as First Lady of Shriners International.
Shriners and Masons are his heroes, and this year Ed looks forward to serving and thanking the fraternal community.
Fraternities and Philanthropy
Master Mason, Doric Lodge #44, Chesapeake, Virginia, 1992
Charter member, Hunters Paradise Lodge #85, Phoenix, Arizona
Past Master, Northern Lights Masonic Military Lodge
Potentate, El Zaribah Shriners, 2013
Captain of the Temple Guard, Ritual Divan Member, and Founding Director and Member of Shrine Masonic 1st Degree Team
Treasurer, Western Shrine Association, 2013–2015
Member, Ancient & Accepted Scottish Rite, Valley of Phoenix
Member, Arizona Chapter #1 RAM, Phoenix Council #4 R&SM, and Phoenix Commandery #3 Knights Templar
Honorary Legion of Honor, DeMolay International
Honorary Member, DeMolay International Supreme Council
Member, DeMolay King Solomon Honorary Chapter in Arizona
Member, CBCS West Gate Scottish Masters of St. Andrews
Emeritus member, Board of Governors of Shriners Children's Southern California
Education
Bachelor's degree, Sociology, Excelsior College
Master's degree, human relations and leadership, University of Oklahoma
Contact Us
Questions, comments or concerns? Please submit a form with your questions and we'll get back to you as soon as possible.