Michael J. Sekera (Imperial Chaplain)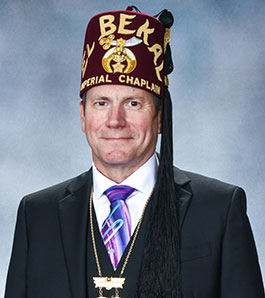 Michael J. Sekera, of San Jacinto, California, was named Imperial Chaplain by Imperial Potentate James E. "Ed" Stolze, during the Shriners 2023 Imperial Session held July 2-6 in Charlotte, North Carolina.
Fraternities and Philanthropy
Charter Member, Desert Daylight Lodge #873
Member, Hemet San Jacinto Lodge #338
Master, Palm Spring Lodge #693, 2016
Member, Al Bahr Shriners, 2008
Member, El Bekel Shriners, 2014
Potentate, El Bekal Shriners, 2021
Vice President, Western Shrine Association
Recipient, Hiram Award, 2022
Venerable Master, Scottish Rite – Palm Springs, 2019, 2020
Knight Commander of the Court of Honour, Scottish Rite – Palm Springs
Member, Royal Order of Scotland
Guthrie Scottish Rite College – Adept for the College
York Rite (Orange County) OC Chapter PHP 74, OC Council 14 PIM, OC Commandery 36 PC
Grand Commandery Line – "Grand Standard Bearer" of the California Grand York Rite
Sovereign Master of Orange Coast Allied Masonic Degrees
St. Croix Red Cross of Constantine
Societas Rosicruciana in Civitatibus Foederatis
President, Robert the Bruce Association/California
Chief, Clan Stirling Bridge
Member, York Rite College #150
Killarney Council #56 Knight Mason
Member, Education Committee, Grand Encampment of Knights Templar
Member, Scottish Rite Research Society
Member, The Masonic Society
Member, Philalethes Society
Member, Board of Governors, Shriners Children's Southern California
Education
Clarence High School, 1979
Niagara Community College
Hospitality & Casino Gaming Degree, San Diego State University
Professional and Personal
Sekera has been in the hotel and hospitality industry since 1980. He retired in 2016 and still works for Native Nations out of San Diego as a consultant doing business plans and improving casino properties. He wrote a book called Road Less Traveled…A Journey Through the Degrees of the Scottish Rite in 2019, and he is working on his second book, called Templars.
Sekera has been married to his wife, Abeer, for 26 years. He has three children: Alexandra Sekera, 25, has a degree in childhood development and is now studying to be a translator in Japanese. Michael Sekera Jr., 23, is attending San Jose State University in the fall, and is studying for his Ph.D. in astrophysics and propulsion systems. Emily Rose Sekera, 29, has a Ph.D. in bioanalytical chemistry from Ohio State University and works as the lead researcher at St. Jude Hospital.
Contact Us
Questions, comments or concerns? Please submit a form with your questions and we'll get back to you as soon as possible.