Kevin. R. Costello (Imperial Assistant Rabban)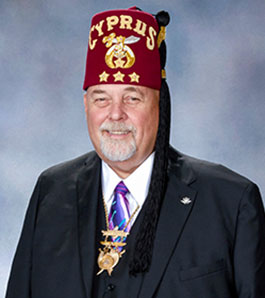 Kevin R. Costello of Tillson, New York, is serving his eighth year as a member of the Boards of Directors for Shriners International and Shriners Children's™. He was elected Imperial Assistant Rabban, part of the 12-member body that helps govern the Shriners fraternity, during the Shriners 2023 Imperial Session held July 2 -6 in Charlotte, North Carolina.
Fraternities and Philanthropy
Master Mason, Rondout Lodge #343, F & AM
Member, 33rd degree, Ancient & Accepted Scottish Rite, Valley of Albany
Member, Cyprus Shriners, Albany, New York, 1993
Potentate, Cyprus Shriners, 2014
Past President, Secretary and Treasurer, Cyprus Shriners Ambassador Unit
Past Chair, Ambassador Unit Golf Tournament and Monster Raffle
Past Chair, Cyprus Shriners Sportsman's Raffle
Cyprus Shriners Representative, Mid-Atlantic Shrine Association, New York-Ontario Shrine Association, Imperial Session
Previous member, Board of Governors, Shriners Children's New England
Education
Bachelor's degree, Business and Economics, Empire State College, S.U.N.Y.
Master's degree, Public Administration, Marist College
Professional and Personal
Costello served in the United States Air Force and was honorably discharged. From 1982 to 1986, he worked as a police officer for the New Paltz Police. From 1986 to 2006, Costello served as a trooper for the New York State Police. There, he obtained the ranks of Investigator, Sergeant and Lieutenant – Bureau of Criminal Investigation. He also supervised the New York State Police Counterterrorism Unit and was assigned Troop "F," where he supervised 100 investigators in five countries and received five Superintendent's Commendations.
Costello was then recruited by Barons Security Agency, in Montgomery, New York, where he served as Vice President and C.E.O. from 2007 to 2008. Costello is the retired president and C.E.O of Alert Security and Investigations Inc., which he formed in 2008.
Costello was previously a board member of Associated Licensed Detectives of New York State, a security professional organization, and is a life member of Ulster County Police Chiefs Association. He is a volunteer fireman for Tillson Fire District, which he has served for more than 40 years, a former member of the Board of Fire Commissioners, Tillson Fire District, and a life member of Veterans of Foreign Wars Post 686, in High Falls, New York.
Costello and his wife, Jill, have been married since 2009. He has four stepchildren, Loren, Joseph, Katie, and, Stephanie. He has four grandchildren, Kevin Alston, 8, Blake Graham, 3, Rae Graham, 1, and new baby Harper Hoffstetter.
Contact Us
Questions, comments or concerns? Please submit a form with your questions and we'll get back to you as soon as possible.