Shriners International's Growth Around the World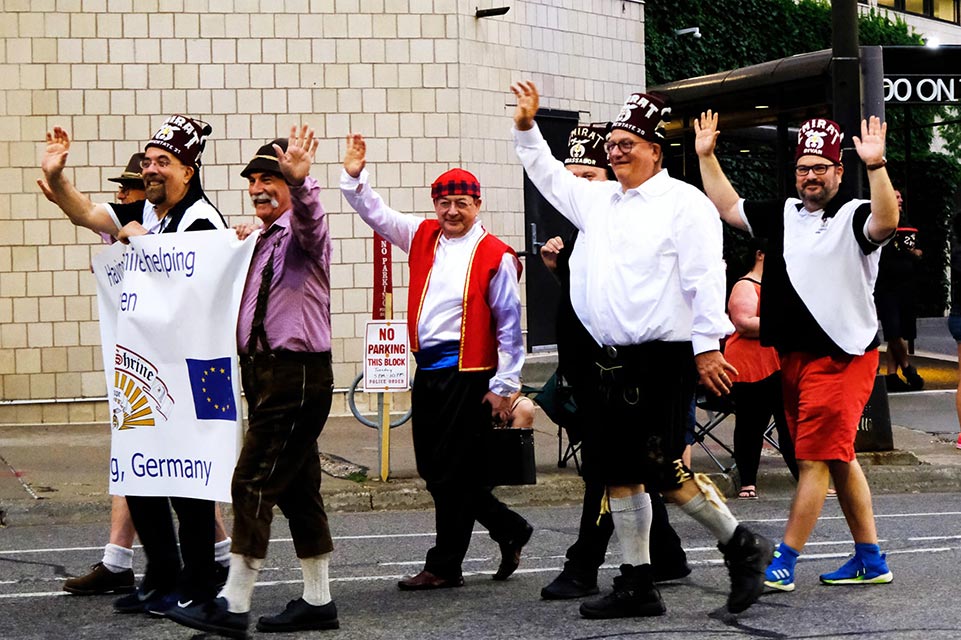 Shriners International is a fraternity based on fun, fellowship, philanthropy and the Masonic principles of brotherly love, relief and truth. The fraternity's values and mission to make the world a better place have inspired good men around the globe, which has led to phenomenal international growth and a greater worldwide reach.
While Shriners International was first established in New York City 150 years ago, the fraternity now has more than 200 chapters in several countries, and thousands of clubs around the world. The fraternity has chapters in the United States, Canada, Mexico, Panama, Puerto Rico, the Philippines, Germany, Brazil, Bolivia and Lebanon, and members spread across six continents.
Recent Expansion
Over the last two years, three new international chapters have been established: Salah Shriners in Brazil (under dispensation in 2021), Al Atfal Shriners in Mexico (chartered in 2022), and Lubnan Shriners in Lebanon (under dispensation in 2022). Each of these new chapters began as an international Shrine Club sponsored by an already established chapter. Through long-term growth practices, travel and strategic alliances with local Masonic leaders, the international development modality supports these clubs toward their dispensation and – ultimately – their charter.
Additionally, four new international Shrine Clubs have been created in the last two years in hopes of further international development over time: the Gabon Shrine Club (established as part of Mahi Shriners in 2021), South Africa Shrine Club (established as part of Mahi Shriners in 2022), Ivory Coast/Cote d'Ivoire Shrine Club (established as part of Karnak Shriners in 2022), and the Israel Shrine Club (established as part of Mecca Shriners in 2023).
Our international chapters have also seen the largest growth of new members over the last two years. Mexico, which has two chapters, saw 103.2% growth. Panama, which has one chapter, saw 5.7% growth. Brazil, which has three chapters, saw 17% growth. Germany, which has one chapter, saw 25.5% growth.
Supporting Our Membership Growth
Shriners International continues to provide ongoing support and resources for our international chapters, including in areas of technology, marketing, membership and operations. Specific examples include deploying onboarding and training programs for our three new international temples, and automatically translating Shrinersinternational.org in multiple languages, based on the location of the user. Additionally, BeAShrinerNow.com, our member recruitment website, has the option to be translated in Filipino/Tagalog, French, German, Italian, Portuguese and Spanish, and many of our printed brochures and membership literature have been translated in multiple languages. We also have a new electronic application for membership that was implemented in September 2020, which has further streamed the process of becoming a new member. These resources help potential new members learn more about the fraternity, wherever they may live.
The fraternity has multiple new awareness campaigns, including the NextGen Spotlight, a new program that highlights our members age 45 and under in leadership positions, which has featured 15 Shriners in international areas. We have also recently introduced the Fun and Fellowship Competition, a friendly competition designed to promote fun and fellowship and recognize those who have successfully encouraged new activities and events, which has garnered great excitement throughout the fraternity, particularly internationally. Of the 118 submissions in the 2023 competition, 21 were from international temples, lauding examples of fun and fellowship in their own areas. One of the 10 finalists selected in the 2023 competition was from Emirat Shriners (Germany), which recently hosted a cooking class for children with special needs.
Looking towards a promising future, we are constantly working on creating new and improved resources to best support our international Shriners. Currently, we are working on translating the electronic membership application in Japanese, Spanish, Portuguese, French and German, and offering educational seminars in multiple languages, focused on regional learning opportunities.
For information about how to become a Shriner, please visit beashrinernow.com.
Stay in Touch
Join our mailing list to keep up-to-date on all that's happening at Shriners International.