AAONMS Ritual Book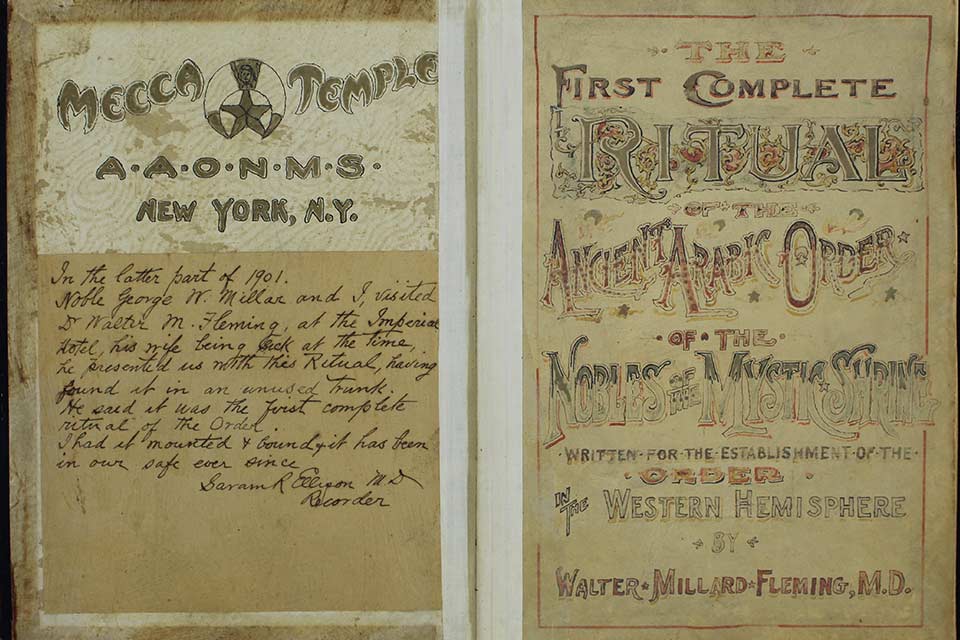 In August of 1870, Walter Fleming, M.D., one of the original founders of the fraternity now known as Shriners International, penned the First Complete Ritual of the Ancient Arabic Order of the Nobles of the Mystic Shrine (A.A.O.N.M.S.). Written in Fleming's handwriting, it is a book of ceremonies for various functions, including initiation, installation of officers, and opening and closing business meetings.
In a meeting on January 12, 1974, Charles T. McClenachan, one of the original 13 Shriners, proposed that a committee be formed to revise and perfect the ritual and facilitate the exemplification of the Order.
On the inside cover of the Ritual, there is a notation handwritten and signed by Dr. Saram R. Ellison, the second Recorder of Mecca Shriners, which says, "In the latter part of 1901, Noble George W. Millar and I visited Dr. Walter M. Fleming at the Imperial Hotel, his wife being sick at the time. He presented us with this Ritual, having found it in an unused trunk. He said it was the first complete Ritual of the Order. I had it mounted and bound, and has been in our safe ever since."
The book is now on display in the Memorabilia Room at Shriners International Headquarters in Tampa, Florida.
Stay in Touch
Join our mailing list to keep up-to-date on all that's happening at Shriners International.