Vintage Mechanical Shriners Parade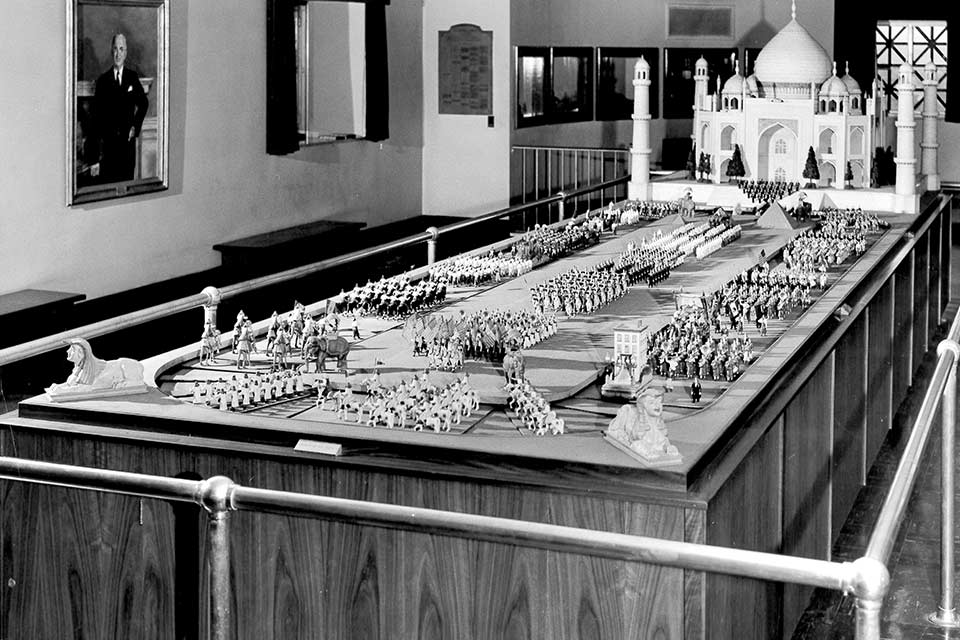 In May of 1945, a mechanical Shriners parade was installed in the Shrine room at the George Washington Masonic National Memorial in Alexandria, Virginia. The idea for the parade was conceived by the Alfred G. Arvold of the El Zagal Shriners who served as Imperial Potentate in 1944-45. He received input from his son, Mason Arvold, who was a designer in New York City. Two modelers, under the direction of architect Harvey Wiley Corbett, built the parade over the course of two years. Corbett was the architect that designed the building that houses the George Washington Masonic National Memorial.
The original parade was displayed in a case that was 28 feet long, 7 feet wide and 4 ½ feet high. It featured a model of the Taj Mahal at one end of the case which served as a reviewing stand for the parade. The Imperial Divan and the Past Imperial Potentates "stood" on the platform in tuxedos and fezzes. The parade consisted of five divisions. The first division glorified the near Eastern origin of the Shriners. The second showed a Shriners parade in an average city. The third emphasized the fun and the joy of the Shriners. The fourth division expressed the humanity of the order. The fifth division featured the glamour and the pageantry of the Shriners.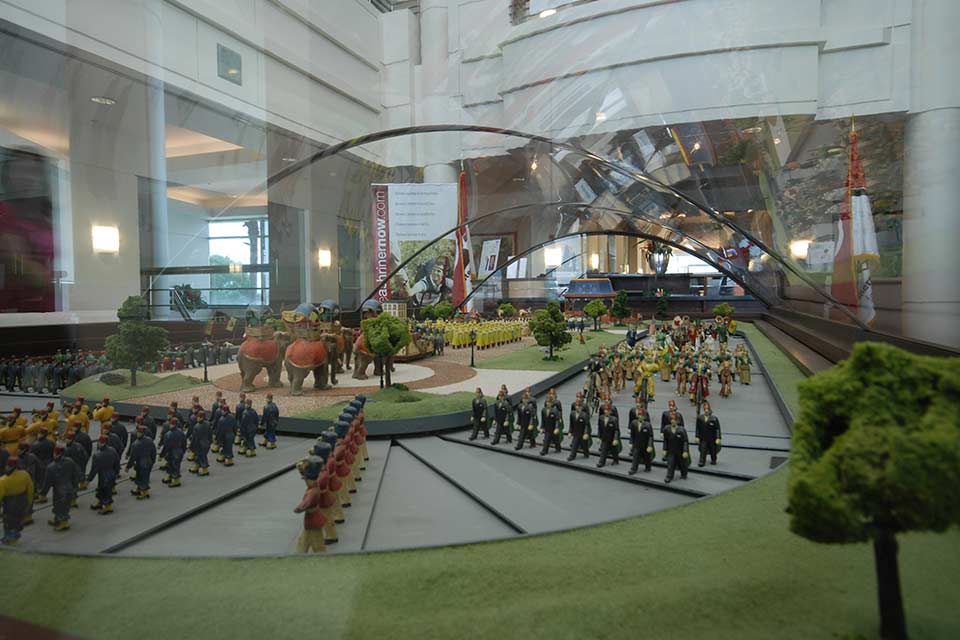 The parade was later remodeled and put into a new case and covered with a plexiglass dome to protect the aging display. The Taj Mahal was also removed and replaced with a more traditional reviewing stand. In 2012, the parade was disassembled and moved from Alexandria, Virginia to Tampa, Florida, where it was refurbished with a new case and shortened in length. Some of the original pieces had to be removed because of decay and also to ensure that it fit in its new location. Some of the extra pieces were saved, refreshed and put into collectible shadowboxes. The parade as it looks today was installed in the lobby of Shriners International Headquarters in April 2013.
Stay in Touch
Join our mailing list to keep up-to-date on all that's happening at Shriners International.