Shriners Next Generation
Shriners Next Generation (#ShrinersNextGen) is a new feature highlighting current and future fraternity leaders.
Meet some of the men who have decided to make a difference in the world! Through their good character, compassion, loyalty, fellowship and support of their brotherhood, these men are today's change makers. These are men who care. These are men who are committed to growth and improvement of themselves and their communities, who ultimately want to make the world a better place in which to live.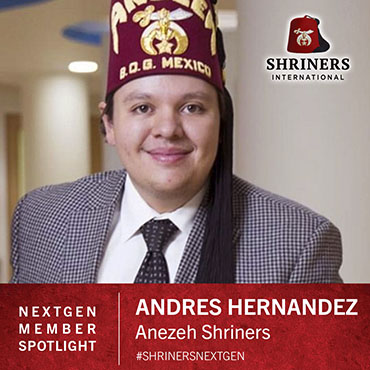 Andres Hernandez
Anezeh Shriners
Consultant for Soeli Consulting, S.C.

Andres is treasurer of Anezeh Shriners and president of the Midas Shrine Club. He served as chairman of the Anezeh Shriners golf tournament for four years, an event that benefits Shriners Hospitals for Children — Mexico. His involvement in other events, such as poker and domino tournaments, has inspired other young men to become Shriners.
Noble Hernadez may look familiar. He appeared with a Shriners Children's patient in a donor relations campaign for the healthcare system.
---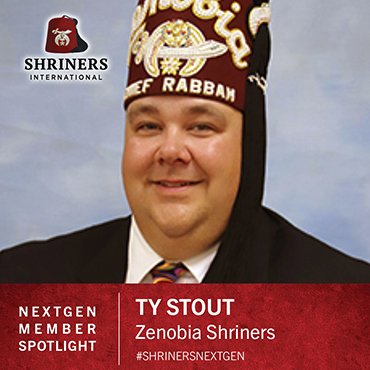 Ty Stout
Zenobia Shriners
Heavy Equipment Operator for City of Fremont

Ty is Chief Rabban at Zenobia Shriners in Ohio and has served as both president and treasurer of the Fremont Shrine Club. In 2020, he spearheaded the creation of Zenobia Pitmasters, a unit made up of new and experienced Shriners with a passion for grilling. For many in the pitmasters was the first unit they joined.
Ty is a member of the Scottish Rite and is a Shriners Legacy member with his father, grandfather, and uncle.
---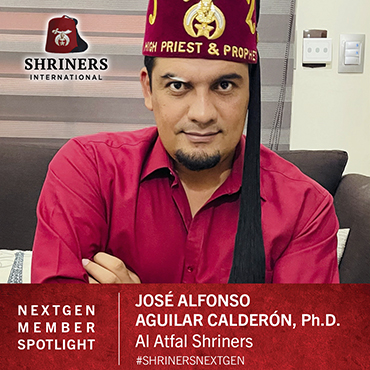 José Alfonso Aguilar, Ph.D.
Al Atfal Shriners
Research-Professor, PhD for Universidad Autonoma de Sinaloa
José, of Al Atfal Shriners (UD) in Culiacán, Mexico, is an up-and-coming leader in his local Shrine Center. He has coordinated ceremonials, promoted Shriners' events to local media, and is active in building his chapter's membership. He has also helped more than 20 children access specialized care through Shriners Children's.
In addition to his leadership role in Al Atfal Shriners, José is president of Club Shriner de Mazatlan and Senior Grand Warden in the Grand Lodge of Sinola.
---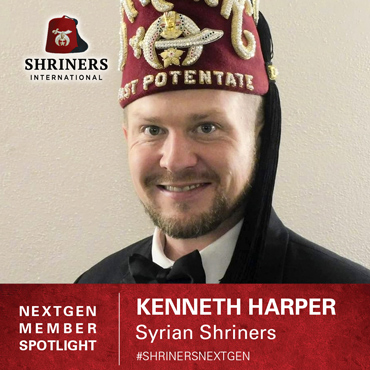 Kenneth Harper
Syrian Shriners
Sales Rep for Ohio Lottery
Kenneth, treasurer and past Potentate of Syrian Shriners (Cincinnati), is the recipient of the Melish award in recognition of his membership recruitment efforts. He is the founder of the Ruffians, a club of Shriners ages 45 and younger, created to help candidates get through degree work, take the next step to become Shriners, and have fun.
Always looking to share his enthusiasm for Freemasonry and being a Shriner, he often brings fellow Masons to Shriner events. He is also the administrator of his temple's Facebook page. He is a Shriners Legacy member with his father, grandfather and uncle.
---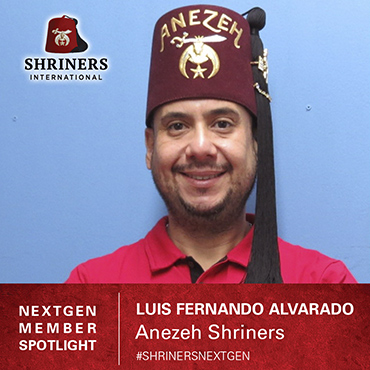 Luis Fernando Alvarado
Anezeh Shriners
Customer Service Manager for Ferreteria los Pasoa
Luis, 33º of Anezeh Shriners in Mexico, is very passionate about the work Shriners do. Not only has he recruited 10 other Masons to follow him into Shriners International, he made it his mission to revive the Honduras Shrine Club started by his godfather in the 1980s. Luis is now president of the club.
In 2019 he was honored Outstanding Noble by Anezeh Shriners and is currently the Worshipful Master of the Progreso 12 Lodge of AF & AM in Honduras.
---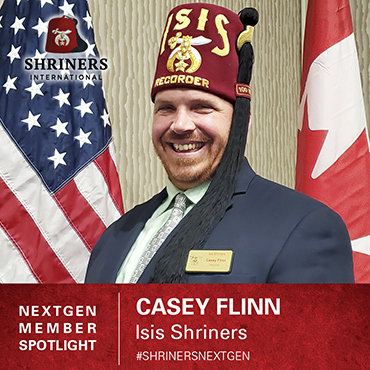 Casey Flinn
Isis Shriners
Retired Military / Isis Shrine Business Manager
Casey, Recorder, Isis Shriners, is dedicated to building fraternity membership. He often travels to Blue Lodges to speak about Shrine membership and uses social media to reach out to non-Masons to promote Freemasonry and Shriners International.
Casey recently completed his apprentice certificate in the Membership and Marketing educational series.
A retired member of the military, Noble Flinn is also a member of the Legion of Honor.
---
Stay in Touch
Join our mailing list to keep up-to-date on all that's happening at Shriners International.