Shriners Next Generation
Shriners Next Generation (#ShrinersNextGen) is a feature highlighting current and future fraternity leaders.
Meet some of the men who have decided to make a difference in the world! Through their good character, compassion, loyalty, fellowship and support of their brotherhood, these men are today's change makers. These are men who care. These are men who are committed to growth and improvement of themselves and their communities, who ultimately want to make the world a better place in which to live.
Interested in Being Spotlighted?
Please take a few minutes to complete the form, provide a brief history of your fraternal background and experience, and answer a few questions that will help us learn more about you and your service as a Shriner. If selected, we will spotlight you on our social media platforms and here!
---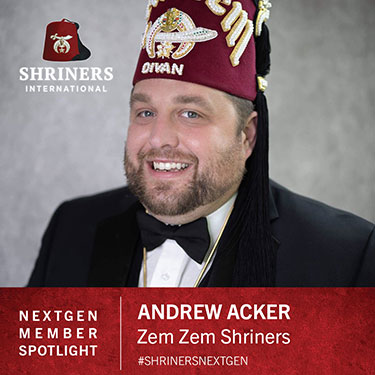 Andrew Acker
Zem Zem Shriners
Lawyer
A lawyer by profession, Noble Acker is a past president of the Mercer County Shrine Club and actively parades with the Drift Trikes Unit. His personal philosophy supports that all active Shriners should strive to serve on the Divan. He loves the fraternal brotherhood and enjoys activities with his Shrine family.
---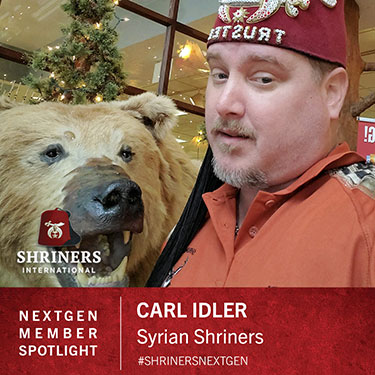 Carl Idler
Syrian Shriners
Retired

Carl Idler (Syrian Shrine Cincinnati) has been around Shriners his entire life – his brother was a patient at Shriners Children's Lexington. The local Ivanhoe DeMolay Chapter provided him with leadership experience as a youth (Past Master Councilor, Chevalier). Since becoming a noble, he helped to create "the Ruffians" Shrine Club, promoting united events for Syrian Shriners and local Masons. Noble Idler currently serves as the Syrian Shriners Oriental Guide and devotes countless hours to increasing his own education and becoming a better Shrine Mason. He retains his Masonic membership with Delhi Hills Lodge #775, is a 32nd Degree Scottish Rite Mason at the Valley of Cincinnati, and is a local DeMolay Advisor.
---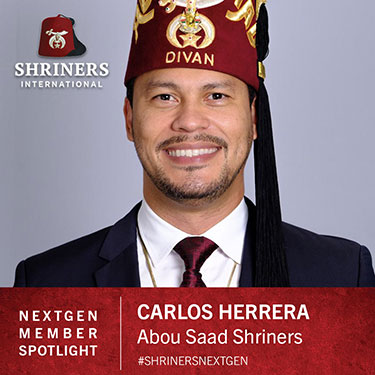 Carlos Herrera
Abou Saad Shriners
IT Solutions Director
Initiated into Freemasonry in 2006, Noble Carlos Herrera serves the Grand Lodge of Panama as Grand Master and concurrently as the Scottish Rite of Panama's Sovereign Grand Inspector General (S.G.I.G.).
Through a record of dedicated service to the Craft, Noble Herrera cites his membership in Shriners International as helping build his character, strengthening his faith, and seeing the importance of taking positive action to benefit others. During the pandemic, he helped to develop new technology and procedures to support virtual operations, allowing local Masonic groups to continue their activities. In 2021, he coordinated the Abou Saad Run-Walk and is a founding member of the Fez Cigar and Pipe Unit. He further notes the importance of being active in the community as a way to strengthen the ties of brotherhood further.
---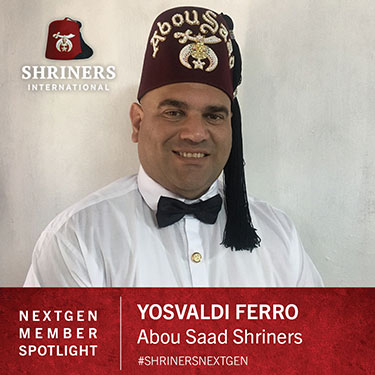 Yosvaldi Ferro
Abou Saad Shriners
Dock Manager
Yosvaldi Ferro is an outstanding member of the fraternal community! He has served the Grand Lodge of Cuba as Deputy Grand Master of the District for four years and his local Lodge in leadership roles for 17 years. His greatest pride is assisting his fellow Shriners in bringing support and hope to children needing medical care. He says visits to children's hospitals and clinics have been his best leadership experiences, and seeing the children strengthens his commitment to the Shriners fraternity and our philanthropy.
---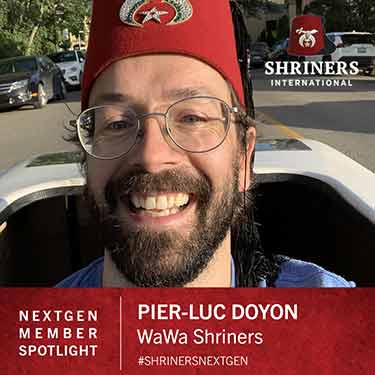 Pier-Luc Doyon
WA WA Shriners
Web Content Developer
Entering his second year as the Worshipful Master of Doric-St. George Lodge No. 71 (Saskatchewan), Noble Pier-Luc Doyon concurrently serves as the President of the WA WA Shriners Gourmet Club. He credits his service throughout the Masonic fraternity with giving him the confidence to have conversations with others and having "a ton of fun."
A legacy Shriner by marriage, Noble Don first became a Mason in 2012 and a WA WA Shriner in 2014. Enthusiastic in his approach, he is also a web content developer, using social media to help promote the fraternity throughout the community. The best part of being a Shriner? "Having a ton of fun with a great group of guys that I can call friends for life."
---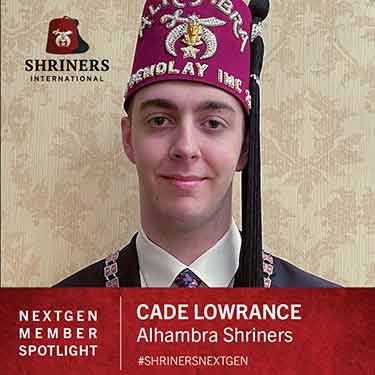 Cade Lowrance IV
Alhambra Shriners
Student, University of Georgia
A. D. "Cade" Lowrance, IV, is a student at the University of Georgia. He credits his desire to be a Shriner with experiences he first enjoyed at 13, assisting with his DeMolay International chapter at a local Shriners event. In his tenure, he has served in leadership positions at local, state and international levels for DeMolay, serving as the International Master Councilor in 2021-22. He now serves at Alhambra Shriners as Membership Chairman and has reorganized the membership team to include a subcommittee on retention.
Since joining Alhambra in 2021, he has been instrumental in the launch of three new units – a New Member Educational Unit, a Superhero Unit and a Social Unit, which is in the works. He is a member of Rossville Lodge #397 and is a proud Legacy Shriner.
---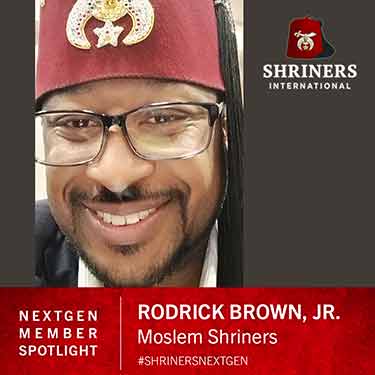 Rodrick Brown, Jr.
Moslem Shriners
CEO Blue Leaf Community Healthcare Organization

Rodrick Brown, Jr. is active with his temple's "Flying Carpets" Patrol Unit, serving as treasurer. He also serves as Junior Deacon of one of two Masonic Lodges to which he belongs in the Grand Lodge of Michigan, and is active with the Scottish and York Rites, Allied Masonic Degrees, OES, High Twelve and Grotto – and is an Advisor for Wayne DeMolay Chapter.
When asked about membership development, he says that being welcoming and visible is the key to recruiting new members, and that leaders should always be concerned with matters that impact their membership and personal life.
---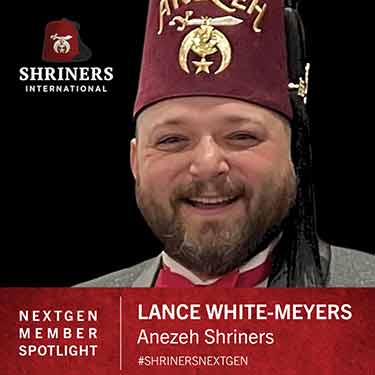 Lance White-Meyers
Anezeh Shriners
Retired
Noble Lance White-Meyers is very active in the state of Chiapas, Mexico. Self-identified as "a billboard" for Shriners in his area, Noble White-Meyers is working to officially organize a Shrine Club for their 27 active local members. In his time as a Shriner, he helped to revamp the Legion of Honor Unit to be attractive to a younger corps of members and has worked closely with the Transportation Unit, directly assisting with ten Shriners Children's patients.
Noble White-Meyers speaks of his passion for serving others and states that being a Shriner has helped him find his place and better utilize his time to benefit others. He says his service has made him more caring and loving, and he wants to serve as a role model to those around him.
He became a Mason in Houston, Texas, in 2009 and joined the York Rite and Scottish Rite – where he was coroneted a 33rd Degree, Honorary Inspector General, in 2018. He became an Anezeh Shriner in 2018.
---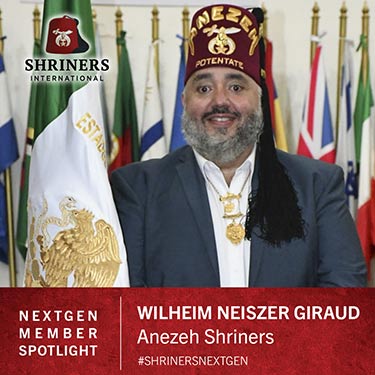 Wilheim Neiszer Giraud
Anezeh Shriners
CEO, Con tu Palabra
Meet Wilheim Neiszer Giraud, Potentate of Anezeh Shriners México and Grand Tall Cedar of Mexico Forest N.221. Neiszer has several positions in his Grand Lodge but is particularly proud of being an honorary member of the Grand Lodge of Paraguay and receiving six medals of Masonic merit by Blue Lodges in Mexico.
Having participated in Anezeh's membershp committee for four years, Wilheim believes the most important thing is to get involved with the candidates and have one-to-one discussions to better understand their needs.
---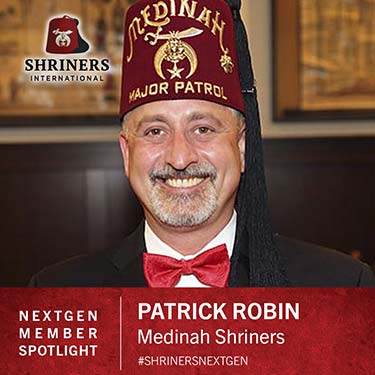 Patrick Robin
Medinah Shriners
Senior Collaboration Solutions Architect, Meridian IT

Patrick Robin has served Medinah Shriners (Addison, Illinois) as Director of Ceremonials for the past five years and as the Major of the Patrol Unit for three years. His fraternal service is not limited to Shriners; he is the Most Excellent Grand High Priest for the Illinois Grand Chapter RAM, a former Grand Steward for the Grand Lodge of Illinois, and an officer for the Scottish Rite Valley of Chicago.
Noble Robin was named the Medinah Shriner of the Year in 2020. He credits the fellowship offered within the Masonic fraternity as making a tremendously positive impact on his life and on his family.
---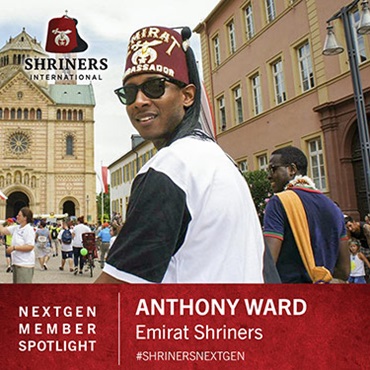 Anthony Ward
Emirat Shriners
Manager, Material Planning and Logistics, Mann+Hummel

Anthony Ward of Emirat Shriners (Heidelberg, Germany) is active within the Shriners fraternity and Luftbrücke Lodge, where he is a Past Master. Noble Ward finds that education is key to recruitment. Each month he and fellow nobles travel to districts and Grand Lodges to speak about Emirat Shriners.
Being in Europe provides the unique opportunity to travel to different countries to meet fellow Shriners and Freemasons and experience different cultures.
---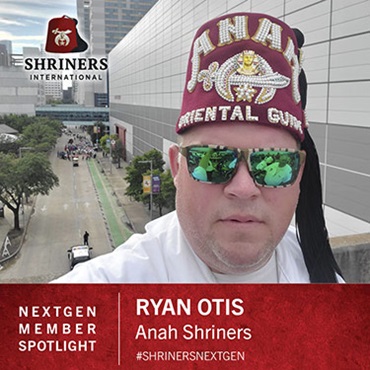 Ryan Otis
Anah Shriners
Manager, Rollie's

Meet Ryan Otis of Anah Shrine. Leadership skills he developed through Shriners International membership seminars, leadership training, and athletic committee meetings have provided Ryan with the tools he needs to be a leader within his Shrine Center and in business. His technique for new member recruitment is to pay it forward by paying the application fees for the new members he sponsors.
Ryan comes from a long line of Shriners, including his grandfather, father, great uncle, brother and cousin.
---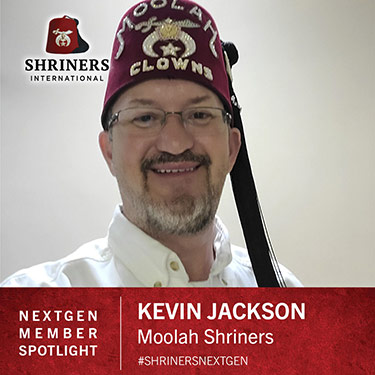 Kevin Jackson
Moolah Shriners
Manager, Windstream Corporation

Kevin Jackson is president of Joachim Shrine Club and Moolah Temple Aide. Noble Kevin devoted time and effort to revitalizing the Joachim Shrine Club to a successful comeback. Kevin is also a proud Legacy member.
Some of the ways he approaches recruiting new members includes face-to-face discussions around involvement, social media engagement, and raising awareness of Shriners Clubs and Units.
---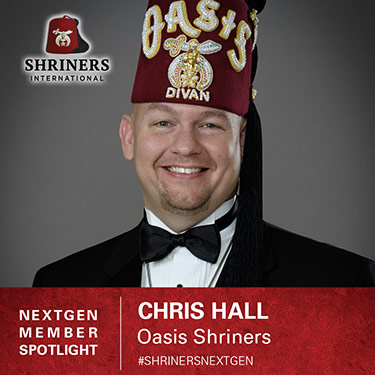 Chris Hall
Oasis Shriners
Project Manager, Gaston County Schools

Chris Hall of Oasis Shriners (Charlotte, NC) is a proud Legacy member and 4th generation Master Mason. He was actively involved with the charter of Oasis Young Shriners Club and helped organize the Oasis Cigar Club and Oasis Brewmasters Club. He also helped re-establish top-line signer awards and incentives, and created the chapter's Blue Lodge Ambassador program.
Adapting to current communications channels, Noble Hall established Oasis's first social media presence, pushed for overhaul of their website and created and managed the group's first mobile app.
---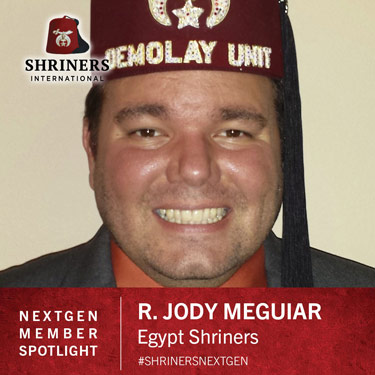 R.J. "Jody" Meguiar
Egypt Shriners
Fraternal Information & Application Support, Shriners International

Jody Meguiar is president of the Egypt Shriners (Tampa, FL) DeMolay Unit and concurrently serves as the Worshipful Master of Hillsborough Lodge No. 25 F & AM in Tampa. Jody's appointments do not stop there. He is a past president of the Tampa Scottish Rite Club; the current executive officer of Florida DeMolay; president/CEO of the Florida State DeMolay Association, Inc., and president of the Florida Educational Foundation, Inc., which provides scholarships to Masonic youth members attending college. He is also in his 5th term as the state chairman of the Grand Lodge of Florida's Masonic Youth Activities.
A proud Legacy member, his leadership roles have helped him develop an appreciation for the generations of men who laid the foundation for the fraternity we have today.
---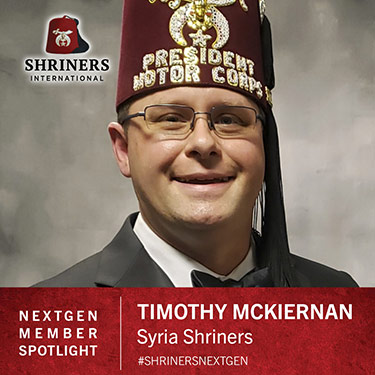 Timothy McKiernan
Syria Shriners
Master Automotive Technician, South Park Mitsubishi

Timothy McKiernan is a proud third-generation Mason and Shriners Legacy member. He enjoys being able to give back to his community and support children and families at Shriners Children's through being a Shriner. Noble Tim and fellow Shriners are creating a Cigar Club and Tap Room to foster more social opportunities within Syria Shriners.
He believes mentoring new Shriners is key to engaging them in fraternity activities and membership retention.
---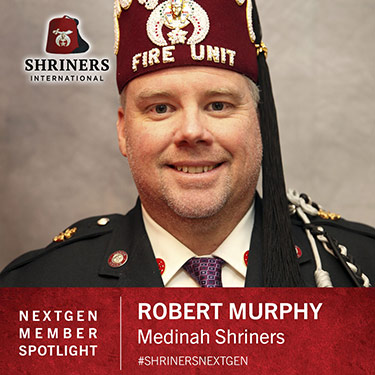 Robert Murphy
Medinah Shriners
Fire Lieutenant, Oak Park Fire Department

Robert Murphy of Medinah Shriners is the fire chief of the Medinah Fire Unit. The membership of the unit is primarily made up of Shriners with fire, public safety and/or medical background or training. Throughout his years of service, he has met many great men who have been a positive influence in his life. By fostering, building and strengthening those bonds and friendships, he has been able to take the best qualities from each and apply them to his day-to-day work environment. Some of those qualities include patience, understanding, compromising and listening.
Along with being the current president of the Great Lakes Association of Shrine Motor Corps. (GLASMC), he takes great pride in being a Legacy member.
---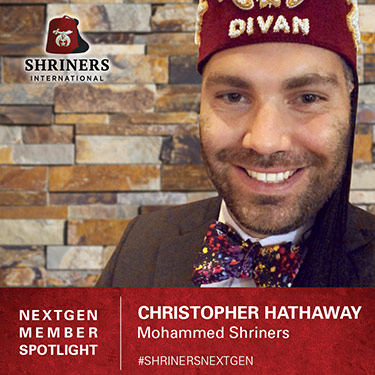 Christopher Hathaway
Mohammed Shriners
Business Analyst

Having held various positions within Mohammed Shriners and his lodge, Christopher Hathaway continues building his leadership skills by helping bring new ideas to his Shrine Club.
Christopher finds organizing events and raising money rewarding and fulfilling. His latest idea is to organize craft brew, whiskey and wine tours for members.
---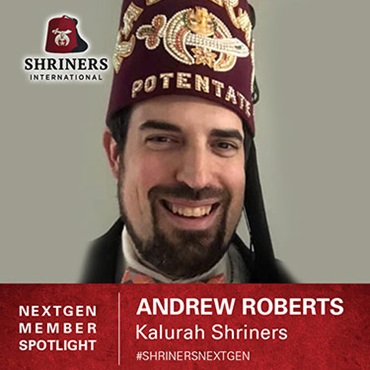 Andrew Roberts
Kalurah Shriners
Social Studies Department Chair/United States History & Government Teacher

Andrew Roberts takes pride in being a young leader with Kalurah Shriners and his lodge. His connection to Freemasonry is strong: he's active with DeMolay; he's a 4th generation Mason and a Shriners Legacy member.
He says the leadership experience gained through these Masonic organizations has given him confidence and assisted him both personally and professionally.
---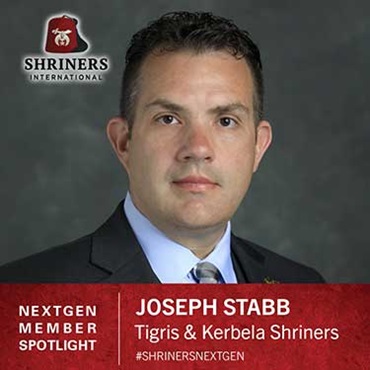 Joseph Stabb
Tigris and Kerbela Shriners
Assistant Professor of Practice for University of Tennessee, Knoxville

Joseph Stabb, of Tigris Shriners and Kerbela Shriners of Knoxville, has held several leadership roles within his lodge and with Tigris Shriners. He feels the best part of being a Shriner is the fellowship, which is reflected in his efforts with events such as a clam bake, family picnic, and drive-in Bingo.
Stabb is a proud Shriners Legacy member with his great uncle.
---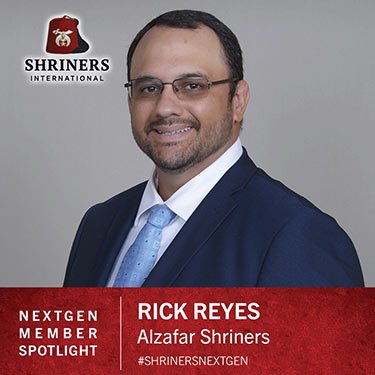 Rick Reyes
Alzafar Shriners
Financial Planner for Edward Jones

Rick Reyes is Assistant Rabban of Alzafar Shriners and Director of the Alzafar Laredo Golf Tournament. His involvement with events highlights the fun and fellowship aspect of membership of the Shriners fraternity and helps bring in new members.
Rick is a fourth-generation Shriner and has held several leadership positions, including past president of the Alzafar Motor Club, past president of Camp Alzafar, and race director of Alzafar 5k/10k race.
---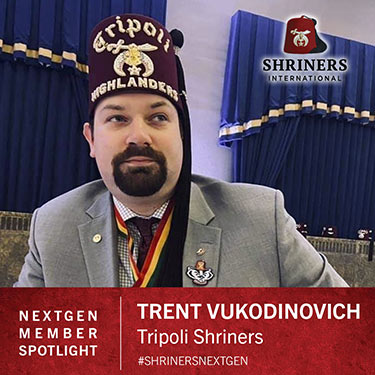 Trent Vukodinovich
Tripoli Shriners
Surgical Technologist Lead for Advocate Aurora Health

Trent, of Tripoli Shriners, is the president of the Tri-County Shrine Club and Worshipful Master of his Lodge. In 2019, Trent assisted the Tri-County Shrine Club to win the temple membership award for being the unit/club to bring the most members to the Tripoli Shriners. Noble Trent takes every opportunity to participate at various appendant bodies events and engages with all new Masons while inviting them as a guest to the Shrine Center or club.
Trent's early involvement as a Shrine club leader has inspired him to become more involved with temple activities and he now has a desire to join the Tripoli Shriners' leadership team.
---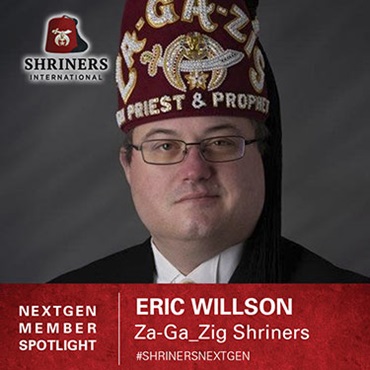 Eric Willson
Za-Ga-Zig Shriners
Detention Officer for Polk County Sheriff's Office

Eric, of Za-Ga-Zig Shriners and secretary of Krome Nobles Club, will soon celebrate 25 years of Shriners membership. Noble Willson is also a member of the Scottish Rite. A Shriners legacy member, he and his father started the Krome Noble Club for those interested in motorcycles, to offer more fun and fellowship.
Eric shares his personal experience with Shriners Children's to show the importance of the fraternity's work supporting the specialty healthcare system.
---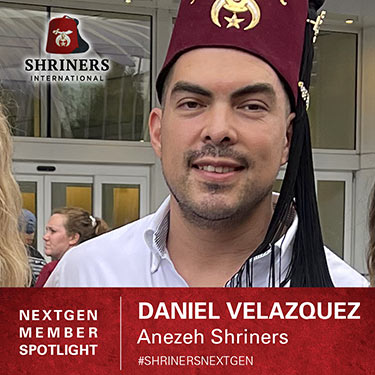 Daniel Velazquez
Anezeh Shriners
Software Developer for AgileThought

Daniel is Oriental Guide of the Anezeh Shriners and chairman of the Grand Chancellery of his Grand Lodge. He is eager to share the history, evolution and philanthropic efforts of our fraternity to all good men, not just Master Masons. He has successfully organized cigar and wine tastings at his regional club to benefit the fundraising efforts.
Daniel is a member of York Rite and has served as secretary, treasurer, senior warden and Worshipful Master at his Grand Lodge. He appreciates the support and encouragement of fellow Masons and Shriners to take on leadership roles in his Lodge and Shrine Center.
---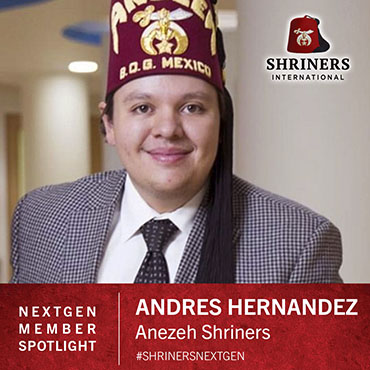 Andres Hernandez
Anezeh Shriners
Consultant for Soeli Consulting, S.C.

Andres is treasurer of Anezeh Shriners and president of the Midas Shrine Club. He served as chairman of the Anezeh Shriners golf tournament for four years, an event that benefits Shriners Hospitals for Children — Mexico. His involvement in other events, such as poker and domino tournaments, has inspired other young men to become Shriners.
Noble Hernadez may look familiar. He appeared with a Shriners Children's patient in a donor relations campaign for the healthcare system.
---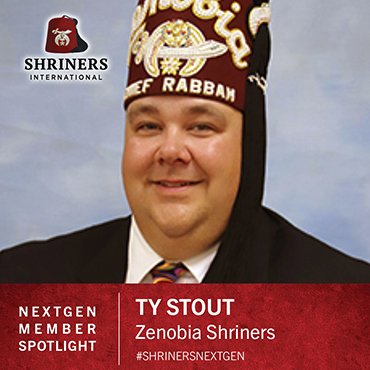 Ty Stout
Zenobia Shriners
Heavy Equipment Operator for City of Fremont

Ty is Chief Rabban at Zenobia Shriners in Ohio and has served as both president and treasurer of the Fremont Shrine Club. In 2020, he spearheaded the creation of Zenobia Pitmasters, a unit made up of new and experienced Shriners with a passion for grilling. For many in the Pitmasters was the first unit they joined.
Ty is a member of the Scottish Rite and is a Shriners Legacy member with his father, grandfather, and uncle.
---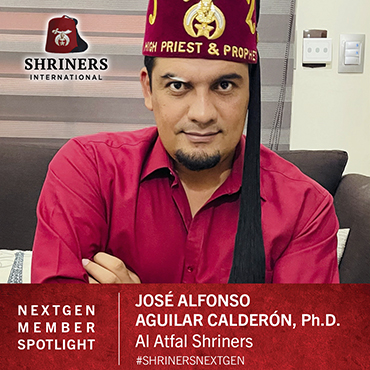 José Alfonso Aguilar, Ph.D.
Al Atfal Shriners
Research-Professor, PhD for Universidad Autonoma de Sinaloa
José, of Al Atfal Shriners (UD) in Culiacán, Mexico, is an up-and-coming leader in his local Shrine Center. He has coordinated ceremonials, promoted Shriners' events to local media, and is active in building his chapter's membership. He has also helped more than 20 children access specialized care through Shriners Children's.
In addition to his leadership role in Al Atfal Shriners, José is president of Club Shriner de Mazatlan and Senior Grand Warden in the Grand Lodge of Sinola.
---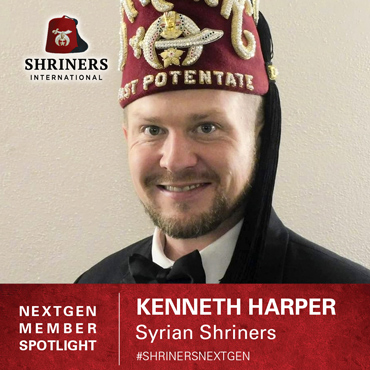 Kenneth Harper
Syrian Shriners
Sales Rep for Ohio Lottery
Kenneth, treasurer and Past Potentate of Syrian Shriners (Cincinnati), is the recipient of the Melish award in recognition of his membership recruitment efforts. He is the founder of the Ruffians, a club of Shriners ages 45 and younger, created to help candidates get through degree work, take the next step to become Shriners, and have fun.
Always looking to share his enthusiasm for Freemasonry and being a Shriner, he often brings fellow Masons to Shriner events. He is also the administrator of his temple's Facebook page. He is a Shriners Legacy member with his father, grandfather and uncle.
---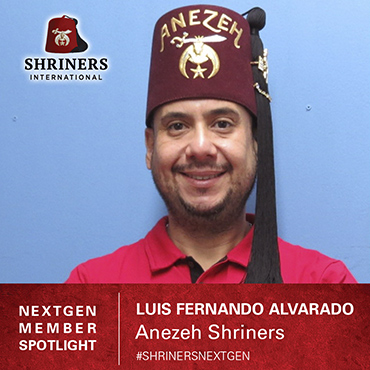 Luis Fernando Alvarado
Anezeh Shriners
Customer Service Manager for Ferreteria los Pasoa
Luis, 33º of Anezeh Shriners in Mexico, is very passionate about the work Shriners do. Not only has he recruited 10 other Masons to follow him into Shriners International, he made it his mission to revive the Honduras Shrine Club started by his godfather in the 1980s. Luis is now president of the club.
In 2019 he was honored Outstanding Noble by Anezeh Shriners and is currently the Worshipful Master of the Progreso 12 Lodge of AF & AM in Honduras.
---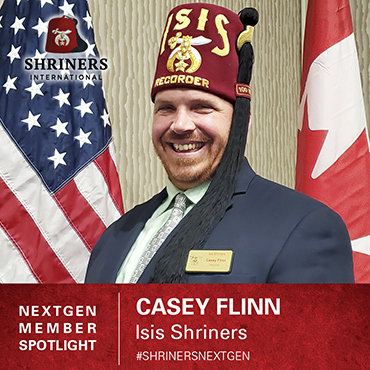 Casey Flinn
Isis Shriners
Retired Military / Isis Shrine Business Manager
Casey, Recorder, Isis Shriners, is dedicated to building fraternity membership. He often travels to Blue Lodges to speak about Shrine membership and uses social media to reach out to non-Masons to promote Freemasonry and Shriners International. Casey recently completed his apprentice certificate in the Membership and Marketing educational series.
A retired member of the military, Noble Flinn is also a member of the Legion of Honor.
---
#ShrinersNextGen Wants You!
Complete a short form and if selected, we will spotlight you on our social media platforms and on this page.
Stay in Touch
Join our mailing list to keep up-to-date on all that's happening at Shriners International.