A 94 Year Old Noble Takes A Walk to Help Children
Two Months, 260 Kilometers, Thousands of Dollars
Are you feeling like you can't really accomplish hard things? Looking for inspiration in a challenging time? Then look no further than Saskatchewan, Canada, and the WA WA Shriners, based in Regina.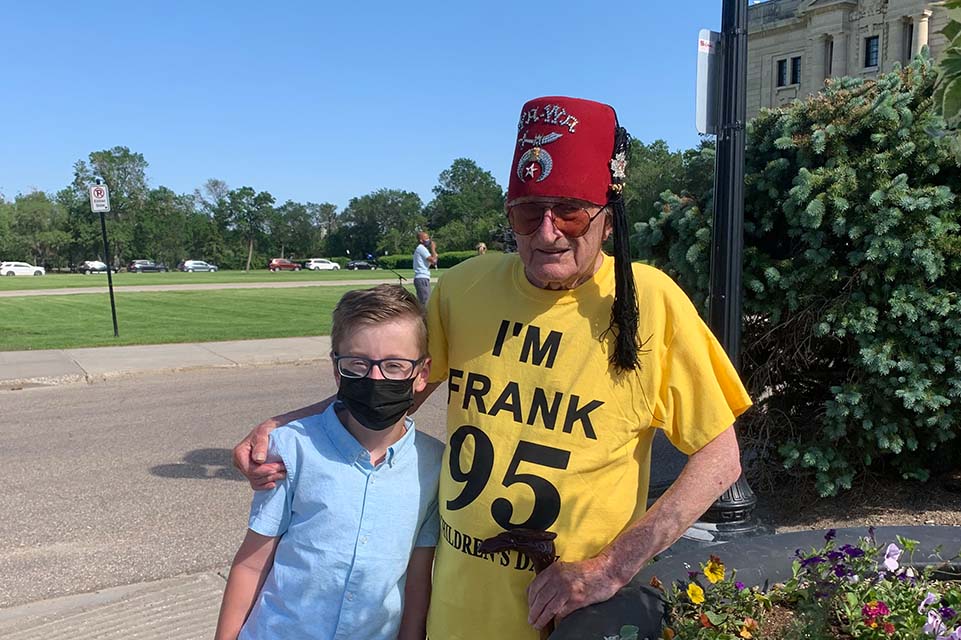 Earlier this year, 94-year-old Noble Frank Atchison of WA WA Shriners wanted to do something to help children. So he got some friends together and took a walk. He walked for two months. He walked 260 kilometers. And he raised thousands for Shriners Hospitals for Children and the Jim Pattison Children's Hospital Foundation, a local charity.
Connecting With Supporters
With the support of the WA WA Shriners, Shriners International, both hospitals and a dedicated organizing committee, Atchison started walking from Saskatoon to Regina on April 15. Covering from 2 to 7 kilometers (1.24 to 4.35 miles) each day, he trekked through snow, sleet, high winds, searing cold and heat. People stopped to meet him on the highway and make donations, truckers changed lanes and gave him an encouraging honk, and farmers waved and showed their support. As media coverage grew, so did donations, and so did the number of supporters who came to meet him along the way. Eager to make connections with people and to carry the message of helping improve the lives of children, Frank stopped often to chat with people along the way, looking especially for young patients of the two hospitals. "Whenever I wanted to talk to supporters for an hour, we'd stand and talk for an hour," Atchison said. "That's what it's all about, children. It's not about old fellas like me walking. If I can help a child, that's what my walk was all about."
Appreciation and Gratitude
Staff from Shriners Hospitals for Children – Canada sent encouraging video messages, and patients and their parents went out to thank and encourage Atchison. One of these families was Matthew and his mom, Kim, who met Atchison in Lumsden. Two years ago, Matthew spent 12 weeks at Shriners Hospitals for Children — Canada for treatment of clubfoot. They wanted Atchison to know what the hospital has meant to them. "Shriners Hospitals for Children staff have seen so much," Kim said. "As parents, we feel that our issue is huge, but to the staff, it can be done. Most of us parents go to Shriners Hospitals because the doctor we are seeing has run out of options. But when you walk into Shriners, there is a whole other set of options."
A Lifetime of Service
Atchison completed his walk on his 95th birthday, crossing the finish line on June 15. He was greeted by a WA WA Shriners parade, as well as Regina Mayor Sandra Masters and Saskatchewan Premier Scott Moe. At the welcoming ceremony, Atchison received his 50-year Shriners membership pin. Since 1941, Atchison has kept himself involved in fraternity activities and has served in many roles, including President of the Saskatoon Shrine Club, President of the Arab Patrol, Captain of All Units, and Membership Chair. And he's not planning on slowing down – the 95-year-old is already planning his next fundraising project.
Frank's Walk By the Numbers:
$80,404 raised for Shriners Children's
260 km (161.5 miles)
61 days
Stay in Touch
Join our mailing list to keep up-to-date on all that's happening at Shriners International.