Maintaining Traditions and Commitments
Amal Shriners Conducts Virtual Ceremonial to Celebrate New Members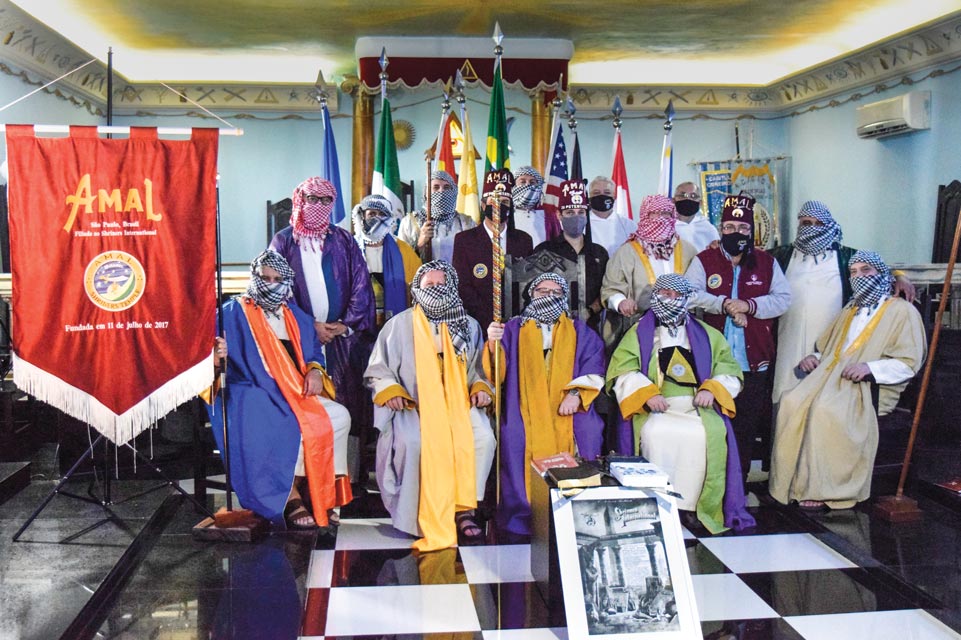 By David Whittemore, Potentate of Amal Shriners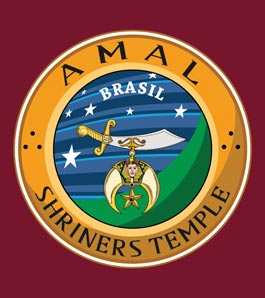 Since receiving its charter in 2018, Amal Shriners, in São Paulo, Brazil, has always been aware of the importance of membership. Our temple has consistently achieved gold status for membership growth.
This effort continued in 2020 – even in the midst of the COVID-19 pandemic. Because the temple's Santa Catarina club was expected to request temple dispensation in July 2020, our temple planned to step up recruitment efforts. We estimated a need for 140 new members in 2020 to make up the loss of members who were expected to migrate to the new temple.
In late March, we realized that, because of the pandemic, we were not going to hold "in person" events anytime soon. More than 55 of our candidates who expected to be initiated in April had already paid the required fees, fezzes and fez cases had been ordered, and commitments were made. We were afraid our temple would lose credibility if a ceremony was not held to honor our new recruits.
A Virtual Solution
Concerned that an entire year of growth was ready to go down the drain, we committed to presenting a virtual ceremony in two parts.
First, a public ceremony would be held online that could be viewed and participated in by the candidates and their families from their own homes.
Second, the Amal leadership would hold closed regional meetings for its new members in order to share our 'Shrine secrets' and story at later dates.
We made a video of the public segment of the initiation that could also serve as a future training tool for creating initiation ceremonies. All the dialogues were recorded in advance; we adapted our turbans by using "keffiyeh," a specific type of headscarf, to cover our mouths and noses. Nobles/MDs assisted in the implementation of proper procedures during the filming that would meet current pandemic-related restrictions.
Our program included clips from Shriners Hospitals, patient photos and stories and various other presentations. We want to especially thank our Imperial Potentate Jim Smith and First Lady Alice Smith, who sent a welcome video to enrich our event.
While we were planning the virtual event, our number of potential initiates kept growing. In March we had 55 paid candidates. As our plans solidified, Blue Lodge and Grand Lodge level presentations were intensified, social media went to work, and word of mouth increased. By April there were 75, and 95 at the end of July. By the end of October we had 140 candidates – and had met our goal.
An Amazing Response
In total, 226 links were made on our web presentation (Nov. 7, 2020) and 140 candidates were initiated. Today, the ceremonial event can be found on Amal Shriners' YouTube channel. Our jurisdiction includes four states in Brazil, an area about the size of the United Kingdom and Spain combined, with a total population of 82.5 million people, and close to 100,000 Masons.
We believe Amal Shriners provided a realistic initiation ceremony that was able to transmit our fraternal message in the tradition of and standard set by Shriners International. That said, it's not time to sit back and relax. Amal Shriners is projecting multiple in-person initiations for 2021 that will bring in another 140 new members – God willing and the snows don't come.
Stay in Touch
Join our mailing list to keep up-to-date on all that's happening at Shriners International.