A Grand Example of Masonic Ideals in Action
Building Brotherhood and Community in Nebraska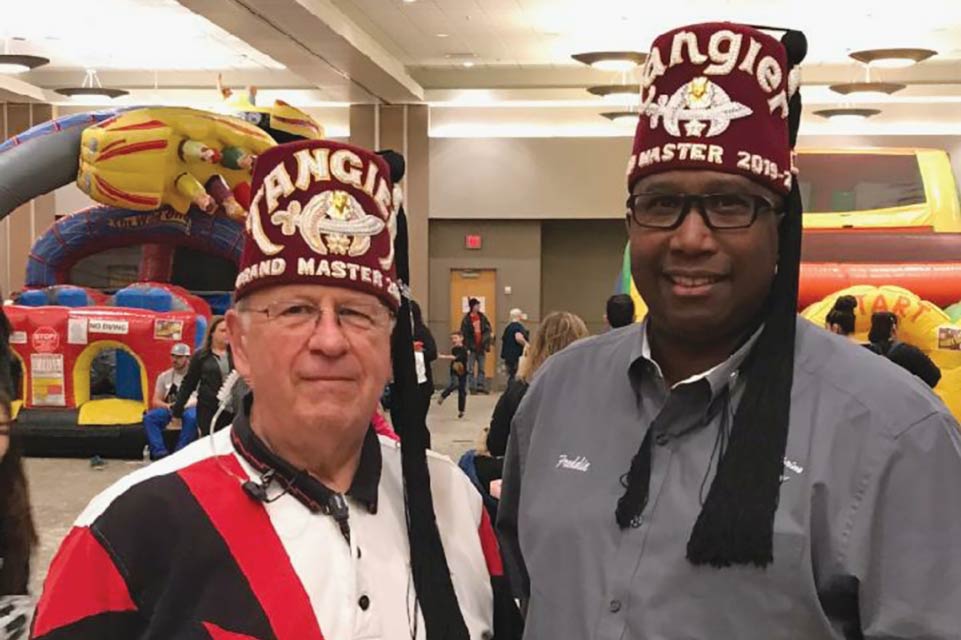 Tangier Shriners in Omaha, Nebraska, is the proud home of the sitting Grand Master AF&AM of Nebraska, James Carlton, the immediate Past Grand Master AF&AM of Nebraska, Ron Stites, and the Prince Hall Grand Master of Nebraska, Freddie Clopton.
Historically, the people and work of the Shriners organization and the Prince Hall Masonic organization is distinctly separate. The Grand Masters of Nebraska have bridged that divide, building on common ground and establishing a concrete example for others.
"This unusual occurrence was due solely to the full joint recognition between the two Grand Lodges in 1990 and directly exemplifies the unity and ability of the two Grand Lodges to work together," said Stites. "Our membership in Tangier has fostered increased involvement with each other that has led to exchanges of visits, ideas, and in our approaches in working together.
"We meet on the level and part on the square not only in lodge, but also in the community," said Stites. "The relationship between Prince Hall Grand Lodge and Nebraska Grand Lodge AF&AM improves every year."
To celebrate 30 years of unity and joint recognition, the two Grand Lodges commissioned a special limited edition challenge coin. The coin celebrates their bond of fellowship and honors an historic and important history, as well as the personal ties among Masons.
"I feel having both Grand Masters in the same Shriners temple shows the brethren in Nebraska that we can be truly united and that we are striving for the same goals in the community and among our fellow man," said Clopton, who has been active and a leader in several Masonic organizations. He was elected and installed as the 39th Most Worshipful Grand Master of Prince Hall Masons in the jurisdiction of Nebraska on July 20, 2019.
"Our relationship is the result of mutual respect as Masons and for one another as good men in our community," said Clopton. That respect and understanding comes from working together to build a stronger community. Combined activities of the lodges have included a Cornerstone laying at Cooper Farm picnic grounds, which is a part of Omaha Home for Boys, joint Masonic Degree Work and an Annual Dinner that is open to all Freemasons in Nebraska, and their ladies – a great opportunity for fellowship between the Masonic bodies.
"Our good relationship allows us to have better open dialog between the two Grand Lodge bodies that builds trust and honesty, and allows us to focus on innovation and creativity and look at the opportunities for seeing both our similarities and our differences as strengths," said Clopton. "Ultimately, this will allow all of us to function better, and demonstrate true acceptance and cooperation to society."
In June 2020, Clopton and Stites issued a joint statement to their members regarding the social unrest that has been tearing at the foundations of society. It stated, in part, "Each brother will grieve in their own way over seemingly senseless deaths and how to call for justice. As Masons, we do not approve of the hatred of racial discrimination or the destructive actions we have seen, but we do approve of emulating the brotherhood Masonry is built upon. We stand together united as a sacred brotherhood."
Both Grand Lodges have also coordinated suspending and restarting craft labors during the pandemic. "This, I believe, showed the Masons in the entire state of Nebraska that we are truly working together in unity," said Clopton.
Building for the Future
The Grand Masters hope the foundation they have laid for Masonry in Nebraska can become even stronger, and be an even greater benefit to the people they serve.
"The primary goal is to continue working together and apply the unity that exists between the Blue Lodge, Scottish Rite, and Shriners in areas of mutual support that will benefit both Grand Lodges and our communities," said Stites.
In a broader sense, it is a goal of building better lives and a better world through Masonry.
Making a Difference
Stites became a Mason to make a difference. Clearly, he's meeting that goal.
"After retiring from the military I was looking for something that would allow me to work with an organization that contributes positively to the communities and nation," said Stites. "I was very pleased and surprised to learn of the far-reaching contributions that Masonry and its appendant bodies make to the world every day. Not only by making financial contributions, but by daily setting the example of brotherly love, relief, and truth to every corner of the world."
Choosing to Become a Shriner
Clopton also wanted to make a difference.
"As a retired member of the US Air Force, I felt that Freemasonry would give me the opportunity to have a positive impact in the local community that could extend worldwide. I toured the Cincinnati Shriners Hospital when in high school, and after seeing the work they did, I wanted to be a part of that great effort that has such a life-long effect on the children and their families. And so I became a Shriner in 2015.
"It's hard to believe that with all the unrest going on today there is a group of men from all ethnic backgrounds that is focused on the greater good for mankind. I know that as a Freemason and Shriner, anywhere I go, if there are Masons involved there will brotherly love, relief and truth from one side of the world to the other."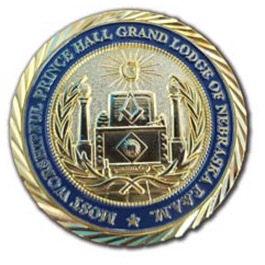 A Bit of History
Prince Hall Masonry
Prince Hall, a Revolutionary War veteran, is considered the father of African American Masonry. Historically, he made it possible for African Americans to be recognized and enjoy all privileges of Free and Accepted Masonry. On March 2, 1784, Prince Hall petitioned the Grand Lodge of England, the mother of all Freemasonry, asking for a warrant for a charter, which had been denied by the Masons of Massachusetts due to racial segregation that existed at that point in the United States. The warrant was approved and that charter, which is authenticated and in safekeeping, is believed to be the only original charter issued from the Grand Lodge of England still in the possession of any lodge in the United States today.
Prince Hall established the first lodge of African American Masons in North America known as African Lodge No. 459, which later became African lodge No.1 with Prince Hall as its Leader. In 1791, the Prince Hall Grand Lodge was founded with Prince Hall as the first Grand Master.
*information taken from the Prince Hall Grand Lodge of Nebraska website
Shriners International
In 1870, a group of Masons gathered frequently for lunch at the Knickerbocker Cottage on Sixth Avenue in New York City. At a special table on the second floor a particularly fun-loving group of men met regularly. Among the regulars were Walter M. Fleming, M.D., and William J. "Billy" Florence, an actor. The group frequently talked about starting a new fraternity for Masons – one centered on fun and fellowship, more than ritual. Fleming and Florence took this idea seriously enough to do something about it.
Billy Florence had been on tour in France, and had been invited to a party given by an Arabian diplomat. The exotic style, flavors and music of the Arabian-themed party inspired him to suggest this as a theme for the new fraternity. Walter Fleming, a devoted fraternity brother, built on Florence's ideas and used his knowledge of fraternal ritual to transform the Arabian theme into the Ancient Arabic Order of the Nobles of the Mystic Shrine (A.A.O.N.M.S.). The name has changed over time; today the fraternity is known as Shriners International.
The first meeting of Mecca Shriners, the first temple (chapter) established in the United States, was held September 26, 1872. Today, Shriners International is a fraternity with nearly 200 temples in several countries, thousands of clubs around the world and hundreds of thousands of members dedicated to the principles of brotherly love, relief and truth.
Stay in Touch
Join our mailing list to keep up-to-date on all that's happening at Shriners International.