Shriners Find Ways to Share Good Times
Fraternity's Flexibility Is Its Selling Point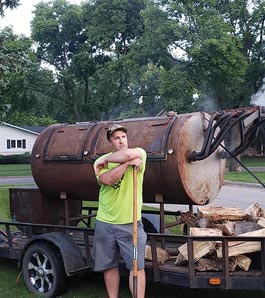 From racquetball to corn hole to cooking and BBQ clubs. Brewmasters and taprooms. Remote-control planes. Camping, RVs, "land yachters." Music and technology. If you can dream it, you can do it, with Shriners International.
That's the new push for this Imperial year and beyond. The idea is called "Build Your Own Experience," said Bryan Harrison, the fraternity's chief membership development officer.
While other organizations, including Freemasonry, offer a more predetermined and uniform experience for all members, Shriners International is set up to enable nobles to be creative. "We've never focused on this aspect of our fraternity before," Harrison said.
The opportunities for nobles – and prospective nobles – to enjoy fun and fellowship are numerous. "And we may not have a thing you're interested in," Harrison said, "but we could!"
Imperial Sir Matt Sturlaugson, who is chairman of the Membership Committee, agrees. "We don't have to push nobles into an existing mold," Sturlaugson said. "Instead, we let them create what they want and we support them through it."
In this way, buy-in comes naturally from the temples, and groups grow organically. As an example, Sturlaugson described a group at El Zagal Shriners that enjoys camping. It all started, he said, when a couple of Past Potentates were chatting about recreational vehicles. Conversations grew about where folks were planning to go and when, which then broadened into where to stay, who would bring food, who would bring firewood, and more.
"At the last event," Sturlaugson said, "a dozen families that are formally part of the group attended, plus others. And it all started with two guys talking about something they both enjoy."
In his role as Membership Chairman, Sturlaugson is keenly aware of the need to recruit and retain new nobles. As the fraternity's numbers decrease, "There is no easy 'just fix this' type of answer," he said. "The nobility is aware of this, and it can be hard to stay positive."
"But then you see these new groups," he said. "That's the spark that will start our recovery." As nobles continue to create the experiences they want to have, their efforts will get noticed – both inside the organization and out.
"As we show internally the fun that we have, we are showing the community what we are doing," Sturlaugson said. "It's true that some things are out of our control, but we can share the good things that we are doing."
An Evolving Experience
Ideas about recreation, free time and fun are ever changing. As some activities come into fashion, others fall out of favor in a natural rhythm. "But now, for whatever reason, fun has stopped evolving," Harrison said.
As temples and nobles remember that they are empowered to build their own experience, they are demonstrating fun and fellowship.
"It is catching on," Harrison said. "Guys may say, 'I didn't know I could build my own unit.' As we gain new members, they will continue to innovate."
One area where Harrison sees promise and growth is in units based on occupational interests. While professional organizations gather people together, the focus is on networking and talking business. With Shriners, people with similar professional backgrounds or in a common industry may get together. "But not to talk shop," Harrison said. "To have fun."
Meet Matt Sturlaugson, Membership Committee Chairman
FIVE THINGS TO KNOW ABOUT MATT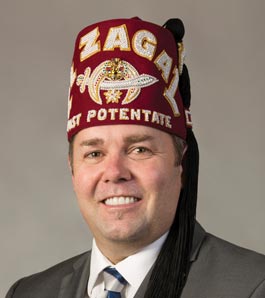 "I'm a firm believer in shenanigans." Sturlaugson said he became a Shriner because he saw the fun his father, uncles, brothers and extended family members were having. "To be honest, I didn't know we had Shriners Hospitals." The understanding of the philanthropic side of the fraternity came later.
To him, the best part of being a Shriner is the camaraderie and the brotherhood. "That's what I hold dear to my heart," he said. "And it's not just the Shriners, it's the entire family – their ladies, their children, the Shriners Hospitals children we serve."
His favorite quote: "Fun is contagious." It's his wife, Mandii, he's quoting, he said. When you step into a room and see people cheering and having a good time, you want to go where the fun is.
What inspires him? His children. "I see them growing. I see the morals we tried to teach them actually coming out in them." And it's not just personal for him. "I can see how what we are doing at Shriners International can cause that same spark."
Where does he see Shriners International in five years? "I'm an optimist," he said. "I see us on an upward trend. Our activities will start to make a difference. People will want to join our organization because of the fun and fellowship."
TWO TRUTHS AND A LIE
How well do you know Matt? Can you spot the lie?

1. "I am an ordained minister."
2. "I am polydactyl, with six toes on my left foot."
3. "I can eat a bag of red licorice —Twizzlers — in one sitting."
(Answer: #2 is a lie)
Stay in Touch
Join our mailing list to keep up-to-date on all that's happening at Shriners International.