Shriners Find Ways to Share Good Times
Temples Celebrate Bright Spots Despite Pandemic
A challenging year is coming to a close. While many nobles and temples found ways to make a difference in the face of the pandemic, it is likely a safe bet that no one is sad to say goodbye to 2020. Still, positive developments were achieved that stand apart from the sickness and natural disasters, and we are delighted to share the stories of just a few of those here.
A Gala To Remember
WA WA SHRINERS / REGINA, SASKATCHEWAN, CANADA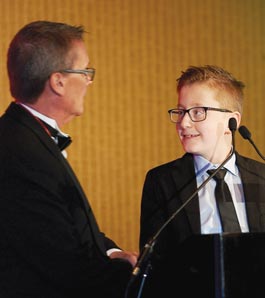 Early this year, the WA WA Shriners enjoyed a memorable and historic evening. A special gala, held at the Downtown Delta Marriott in Saskatoon, included both Masons and Shriners as a celebration of all concordant bodies.
The theme for the evening was spreading the word about the conjoined fraternity and philanthropy. More than 500 people attended, including representatives from Grand Lodges from two provinces, and three Shriners temples, along with 30 nobles who traveled hours by bus from Calgary, Alberta. In addition, corporate sponsors came to learn more about our organizations.
Before the program's start, guests from Al Azhar Shriners, of Calgary, held a fezzing celebration on the concourse level, bestowing an honorary membership to their temple to WA WA Potentate Illustrious Sir Bob Keep and Noble Gord Davey.
Soon it was time for the Potentate, Divan, Grand Master and Grand Line to be bagpiped into the gala room and onto the stage. The first speaker of the evening was the former mayor of Saskatoon, Noble Don Atchison, who shared why he became a Mason and Shriner.
The highlight of the night was guest speaker Carter, an ambassador from Shriners Hospitals for Children — Canada. Carter's family, including his parents and brother, accompanied him on the journey to Saskatoon. The crowd gave him a standing and resounding ovation after his presentation.
Another special moment came as a professionally produced video told the story of Ryan Straschnitzki, a young Canadian hockey player who was injured in a devastating team bus crash and went to Shriners Hospitals for Children — Philadelphia for spinal cord injury rehabilitation. In the video, Ryan talks about his experience and his gratitude to all the Shriners involved.
Most Worshipful Grand Master Rob Montague spoke on the importance of all the concordant bodies being part of one Masonic family. All these bodies have one goal in mind, he said – helping our communities. Speaking movingly of the events Masonic lodges put on and the work Masons do, he concluded with a provoking question: "What would the world be like without us?"
Potentate Keep talked about the role Shriners play in supporting Shriners Hospitals for Children. He told guests that the unique health care system offers special care for rare or complex orthopaedic conditions and that the different providers collaborate to provide individualized and complete care to the patients. He then talked to the crowd about the many benefits of becoming a Shriner, why they wear the fez and what it symbolizes.
As the evening closed, it was clear to all that the mission had been accomplished. The audience learned so much about the organizations, and many petitions for Masons and Shriners were received.
'World's Largest Peanut Boil'
CRENSHAW COUNTY SHRINE CLUB AND ALCAZAR SHRINERS / MONTGOMERY, ALABAMA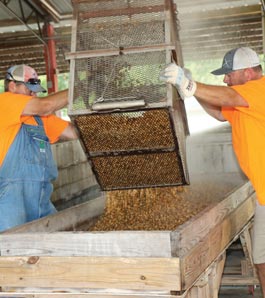 The "World's Largest Peanut Boil" is more than a tasty 49-year tradition for the sponsoring Crenshaw County Shriners. Supporters say they are the best boiled peanuts on the planet. "We get our peanuts from Holland Farm in Jay, Florida, and they can't be beat for quality or for consistency," said Alcazar Shriners Past Potentate Andy Compton. "We've never gotten a bad peanut, and we get a ton. Actually 'a' ton for parching and 30 tons for boiling."
Something Big Is Happening
SAHIB SHRINERS / SARASOTA, FLORIDA
The city of Sarasota has been considering the future of its Unconditional Surrender statue, a 26-foot-tall reproduction of the iconic image of a World War II sailor kissing a woman on V-J Day in 1945. The statue needs to be moved during nearby road construction, but its destination afterward is undecided.
So the Sahib Shriners are making their pitch. Illustrious Sir Gary Fields made a presentation to the City of Sarasota Public Arts Board requesting that Sahib Shriners be considered as a permanent relocation spot for the statue that had been occupying a spot at the City Bayfront.
The Shriners have agreed to pay to move, maintain and keep the statue. With many veterans in their ranks, Shriners are enthusiastic about having the statue remain in Sarasota, Fields said. That's also why many on the committee felt that moving the statue to the Sarasota Sahib Shriners' campus might help put the sculpture into context and diminish any controversy that surrounds it. The potential new home may also include an educational plaque or material that would add historical background and some of the opinions about the piece. That material may be crafted by victims' rights and veterans organizations. "The end of World War II is a great story," said Fields. "But the sexual harassment is also part of that story. We take that seriously, and we're willing to help tell that story."
The city is taking a survey to help determine the statue's placement, and the Sahib Shriners' proposal is on the list.
Tip Of The Fez
BEMIDJI HEADWATERS SHRINE CLUB:The Bemidji Headwaters Shrine Club recently donated $8,106 to Shriners Hospitals for Children. These funds were made possible by the generous contributions of Bemidji, Minnesota, area businesses.
ASIYA SHRINERS: The Asiya Shriners of San Mateo, California, and L.O.S.N.A. Ankh Court No. 92 generously donated personalized Fezzy bears from Build-A-Bear to give to children admitted for surgery at Shriners Hospitals for Children — Northern California.
KHEDIVE SHRINERS: The Road Runners of Khedive Shriners in Chesapeake, Virginia, dropped off a huge donation of new toys and handmade quilts to Shriners Hospitals for Children — Greenville. Hospital staff members said receiving this large surprise felt like Christmas.
Stay in Touch
Join our mailing list to keep up-to-date on all that's happening at Shriners International.