Increasing Knowledge, Improving Performance
Established in 2016, Shriners International Education Foundation (SIEF) works to improve lives by promoting, supporting and fostering education, training, study and research, and leadership skills for all, including aspiring leaders within Shriners International, Masonic appendant and concordant bodies, and nonprofit organizations. SIEF believes that knowledge is the key to making the effective organizational decisions that are necessary for leaders to better serve their constituents, and its educational programs are part of that effort to make a difference.
SIEF intends to empower the leaders of Shriners International and its philanthropy, Shriners Children's, along with other related and like-minded organizations who share the mission and vision of the Shriners organizations, in supporting their charitable goals and mission to make the world a better place.
The SIEF Noble Academy is a source of chapter operations education for the entire Masonic family, both men and women members from appendant, allied and affiliated bodies.
Through immersive virtual and in-person events, students have the opportunity to build knowledge in critical chapter operational areas and obtain practical skills that they can apply to real-world scenarios to advance their organization.
Adapting to an ever-changing world has proven challenging for many fraternal organizations. The Noble Academy gives members of the Masonic family additional tools to both stay relevant and succeed in serving their communities, growing their membership and increasing their philanthropic efforts.
SIEF introduced the first Noble Academy component in the fall of 2020 – the Membership and Marketing Conference and Masters Class. In an effort to satisfy an increasing demand for education, the Noble Academy is excited to announce new education tracks in accounting, technology and leadership.
On-Demand Virtual Events & Seminars
In case you missed them or just want a refresher, below is a list of our past Membership & Marketing virtual education events for your viewing:
2020-2021 Membership & Marketing Webinars
Using Emotional Connection to Set the Value Proposition – Michael C. Russell
Shriners Children's - Branding for Our Next 100 Years – Mel Bower
All Aboard! First-Timer's Guide to Producing an Events Portfolio – Christian Moore
Shout It Out Loud! External Communications – David Krogh and Tammy Robbins
Driving Meaningful Member Experiences Through Communications & Recordkeeping – Don Ferguson
Developing Your Why and Establishing a Winning Culture – Richard E. Lynn
Mission Critical Communications – James W. Lich and Bethanne Demas
Open Discussion – Panelists Marty Bartlett, Bryan Harrison, Mel Bowel. Moderated by John Piland
2021-2022 Membership & Marketing Webinars
Your Event Survival Guide - Part 1: Planning – Ali Collins
Social Media in An Age of Division – Mel Bower
Volunteer Management - "If you have to ask how much they cost, you can't afford them." – Timothy J. Murphy
Developing a New Website Will Make You Question Everything – Anthony Watts
Becoming a Successful Fraternity – Robert Conley
The History of The First Shriners Hospital – Christian Berg
Open Discussion – Panelists Bryan Harrison, Mel Bowel. Moderated by John Piland
2022-2023 Membership & Marketing Webinars
Creating a Culture of Excitement – Brad Scott Billings, Grand Master at the Grand Lodge of Texas
Best Practices in Chapter Communications – Mel Bower, Chief Communications and Marketing Officer
Strategic Assessment of Our Masonic Facilities – James Cole, Grand Commander/CEO at Scottish Rite, SJ, USA
Leveraging Social Media to Acquire New Shriners in Local Areas – Rich Davis
Development Theory and How to Facilitate Groups Through That Process in a Fraternal Environment – Christian Moore, CPRP, Library & Museum Administrator at Grand Lodge of Texas
Shriners and Social Media Today: Lessons Learned, Tips, Tricks and Protecting Our Brand – Chris Hall
Open Discussion – Panelists Bryan Harrison, Anthony Watts. Moderated by John Piland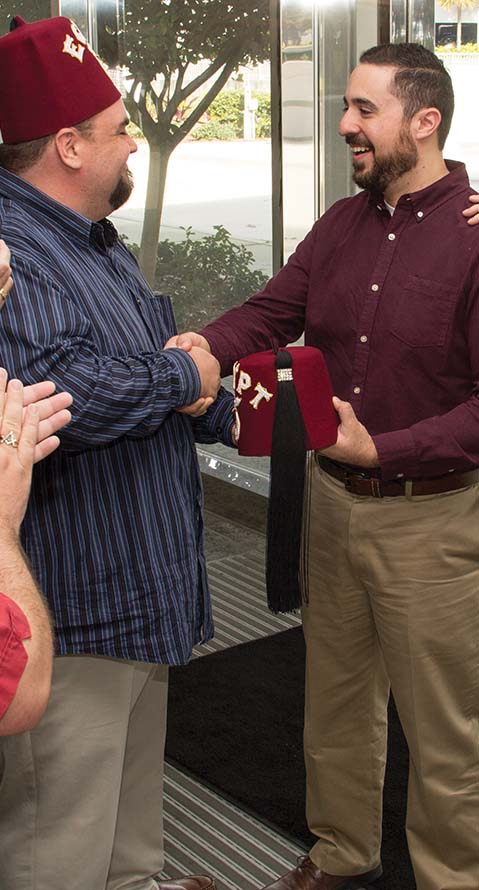 The Noble Academy also offers education in accounting, leadership and technology.
All Shriners and members of Masonic organizations are eligible to attend.
Stay in Touch
Join our mailing list to keep up-to-date on all that's happening at Shriners International.